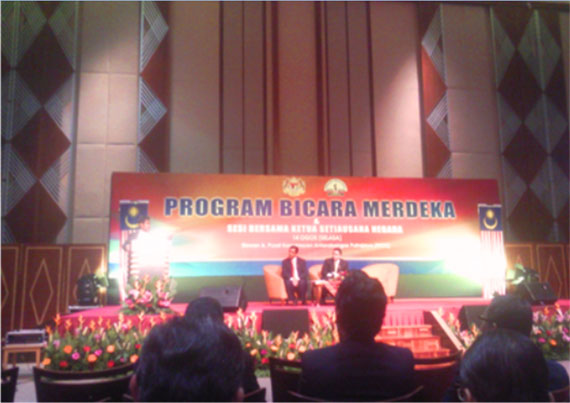 The National Civic Bureau (BTN) of the Prime Minister's Department and the Integrity Institute of Malaysia (IIM) has jointly organised Bicara Merdeka and a Session with YBhg. Dato' Sri Dr. Ali Hamsa, the Chief Secretary to the Government of Malaysia on 14th August 2012 at Putrajaya International Convention Centre (PICC). These two programmes were organized to commemorate Malaysia's 55 Merdeka and to discuss issues concerning the civil service. YBhg. Dato' Ku Jaafar Ku Shaari, Director General of IDFR and other officers from IDFR attended the programme along with other public servants from various ministries and agencies.
YBhg. Dato' Irmohizam Haji Ibrahim, Fellow of Training BTN moderated the session where two prominent panelists; YBhg. Dr. Mazlan Ismail, Vice President of the National Network Operation, Telekom Malaysia and YBhg. Datuk Abdul Malek Munip, former lecturer of History Department, University Malaya shared their definition of Merdeka. YBhg. Dr. Mazlan Ismail, in his lecture reminded that Malaysian must always look inwards and be thankful for the prosperity and development achieved. We must live by the slogan - united we stand; devided we fall, we are a multiracial society and the uniqueness of shared understanding and tolerance is the secret recipe to our harmonious nation. YBhg. Datuk Abdul Malek Munip touched on the danger of generation gaps and the importance of learning and understanding of history. One must read and understand history in order to appreciate one's existence. Those who appreciate their existence will develop a sense of patriotism towards their country and will do whatever in their powers to safeguard and protect their beloved land.
YBhg. Dato' Sri Dr. Ali Hamsa, the Chief Secretary to the Government of Malaysia congratulated YM Datuk Raja Ali, Director General of BTN for organizing the the programme and hoped it would be held annually. YBhg. Dato' Sri in his address reminded all civil servants to work diligently and be sensitive in giving service to the rakyat. The "Merakyatkan Perkhidmatan Awam" slogan is very important to all level of the civil service, since 1/3 of Malaysia's population works with the government and this will somehow affect their families and loved ones. He also reminded all Head of Departments to visit their divisions and get to know their problem and fix them. He then answered questions from the floor and bid the audience "Selamat Hari Raya Aidilfitri" and a safe journey.