NADIM Programme – Science Of Balance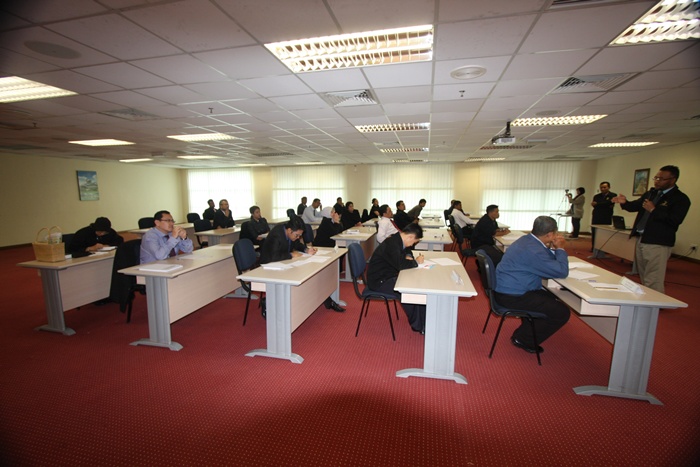 In line with IDFR's vision in becoming a training institute of international standing, IDFR's administration enrolled 20 officers and staff including the Director General for a three-day training under the NADIM programme – Modul Usaha Nadim from 15 to 17 August 2011 at IDFR. The others included Amb. Abdullah Faiz Zain, En. Mustafa Mansor, Pn. Rodziah Abdul, Pn. Rahimah Yeop, En. Rosmahyuddin Baharuddin, Major Mohd. Ridzuan Mohd Shariff, Cik Romaiza Abd Rahman, En. Nafizal Haris Sabri, Cik Wan Faizah Wan Yusoff, En. Agustin Gutierez Abdullah, En. Jaganathan Krishnasamy, Cik Khairul Bariah Che Amat, En. Mohd Azlan Mohd Safwan, En. Mohd Noor Ahmad Jusoh, En. Amar Ricky Wong, En. Abdul Rashid Bidin, Cik Ida Rosyanty Ishak, En. Shukor Md. Yusof dan En. Wan Mohd Azrul Wan Mohd Redzuan.
Modul Usaha Nadim(www.nadim.com.my) is a training module which had been developed and assembled based on a technique named NADIM - Science of Balance. The module implements scientific and systematic methods based on uniform shapes.
The main aim of the programme is for the participants to acquire the balance between IQ and EQ as well as learning to be tolerant with participants' inner self and surrounding in order to achieve the balance. Other aims of the programme are also to enhance the competitive edge, creativity and discipline of participants as well as to increase participants' skills and energy in the execution of tasks and responsibilities.
The programme emphasised on the needs to balance every action taken where the beginning should have an end, to be completed in a full circle. This is being reflected in life where any task assigned should be fulfilled with dedication to ensure better end results.
The programme also highlighted the importance of executing and completing any task according to the discipline, flow and procedure set for the task. This is to ensure that the neurons of the brain are triggered according to the natural manner and to avoid any risk of stressing the brain. Any deviation or action which goes against the flow will disturb and ruin the whole process thus, resulting in undesired results.
The non-conventional course is an eye-opener and that participants would implement the knowledge gained to improve one's working attitude and further contribute to the growth of the institution.