Visit to the Parliament of Malaysia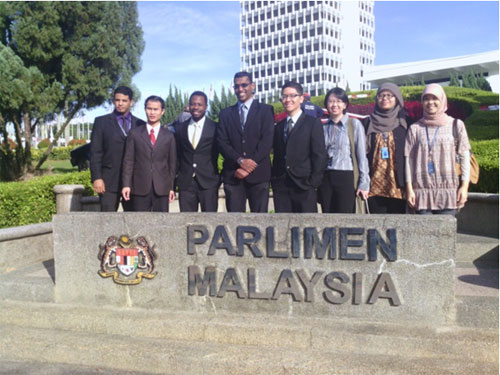 A study visit to the Parliament of Malaysia was organized by IDFR for students of the IDFR-UKM Master Programme (Session 2011/2012) and IDFR's two interns on 9 April 2012.
During the visit, the group had the opportunity to sit in the public gallery of the House of Representatives and experience the proceedings. Although it was a very short session for them due to the many visitors that day, they nevertheless were given a guided tour of the place by Mr. Ahmad Faizal bin Mohd Soaudi, the Simultaneous Interpreter at Parliament House. Among the interesting places they saw was "The Royal Stairs" or the "Once a Year Stairs" that is exclusively used by the Yang di-Pertuan Agong and his Consort when they come to the House of Representatives to officially open the new session of Parliament. Since this occasion only occurs once a year, the stairs are closed at all other times.
The visit to Parliament was a very memorable moment for the Masters Students and interns. They learnt a lot about the inner workings of Parliament during the visit. They were also able to catch a glimpse of some of the superstars of the local political scene such as our Prime Minister, Ministers and some MPs. Standing at the epicenter of Malaysian democracy was a true inspiration for them.