Graduation Ceremony of the Diploma in Diplomacy 2017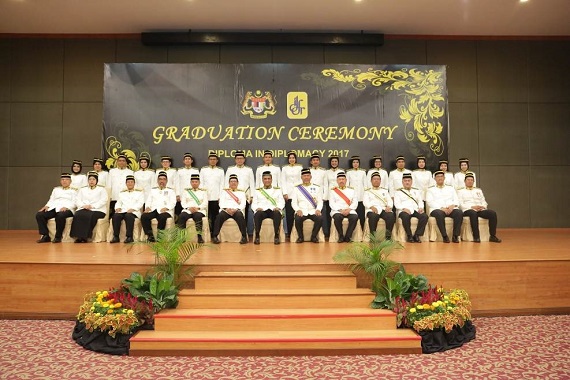 Eighteen junior officers from the Ministry of Foreign Affairs, Malaysia, received their Diploma in Diplomacy at a graduation ceremony held on 22 January 2018 in IDFR. The officers attended the six-month intensive course from 4 July 2017 until 11 January 2018, which focuses on the field of diplomacy and foreign relations in preparation for their first posting to Malaysian Missions. The programme gave an in-depth exposure to participants on the various angles of diplomatic affairs and international relations as part of their professional preparation performing their duties and responsibilities as Malaysia's representatives to Missions abroad.
The Honourable Dato' Sri Reezal Merican Naina Merican, Deputy Minister of Foreign Affairs, Malaysia, graced the ceremony and presented the diplomas and awards to the participants. The five awards conferred at the ceremony were the Minister of Foreign Affairs' Award (Overall Best Student) to Ms. Zuliera Zariz Azman Aziz; the Deputy Foreign Minister's Award to Mr. Norafizan Mustaffa; the Secretary General's Award to Mr. Syed Nizamuddin Sayed Khassim; the Director General's Award to Mr. Muhammad Azhari Azmi; and the Special Award to Ms. Azizah Abd Aziz.
The Honourable Dato' Sri Reezal Merican in his address, among others, expressed the importance for the officers to be "physically, mentally and emotionally strong to brave various situations", whether to "defend the government's policies abroad or addressing the needs of individual Malaysians". He also stressed on his hope for the future diplomats to "seize the initiative to pursue other avenues for further self-development" including to equip themselves with further education and knowledge; to take advanced foreign languages classes; to enhance needed skills such as communication analysis and multimedia production; to have adequate emotional intelligence and empathy training; and last but not least, to be able to write high-quality reports.
The ceremony was attended by senior officials of the Ministry, former diplomats, representatives from the foreign embassies, lecturers, parents and spouses of the officers.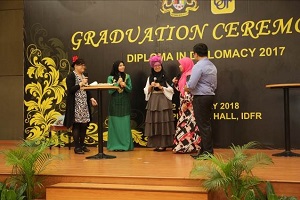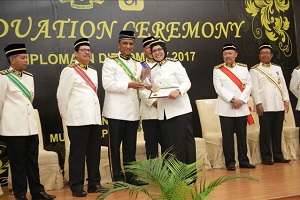 Prepared by:
Corporate Affairs Section