Ambassador Lecture Series 1/2018: "UK Post-Brexit: Implications to UK-Malaysia and UK-ASEAN Relations"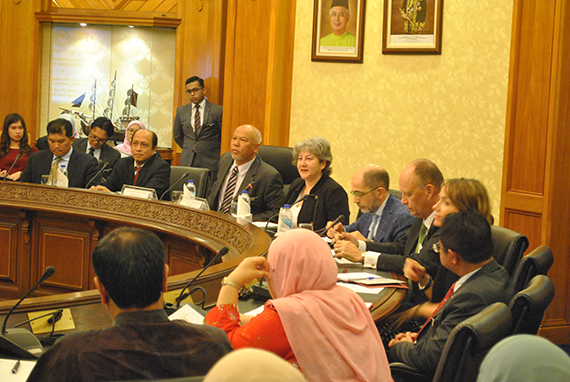 On 30 April 2018, IDFR hosted Her Excellency Victoria Marguerite Treadell, British High Commissioner to Malaysia for a lecture titled UK Post-Brexit: Implications to UK-Malaysia and UK-ASEAN Relations. The Ambassador Lecture Series (ALS) is a platform to the ambassadors accredited to Malaysia to deliberate on topical issues of importance not only to the host country but also regionally and globally. It serves as a venue for the speakers to highlight their respective government's views and policies which could be shared with the audience from the various government agencies as well as foreign missions in Malaysia.
The High Commissioner began her talk by providing a background of Brexit and highlighted that the British politics is at a critical juncture following Brexit. Nevertheless, the High Commissioner assured that her country is committed to the democratic process and at present, Britain aims to reach the utmost deal with the European Union. Despite the recession hype following Brexit on the economic fora, the High Commissioner remarked that the UK's economic fundamentals remain strong and continue to prosper. She further added that Brexit may actually provide a perfect avenue for Britain to negotiate its own Free Trade Agreement (FTA) with other countries. She also underscored the prospects of UK's relations with the wider world, with a particular attention to Malaysia and ASEAN in a post-Brexit world. Malaysia and the UK relationship remains close whereby both countries have extensive cooperation in various fields, amongst others, defence, education, trade and Commonwealth memberships. The High Commissioner also affirmed that the UK aims to establish a stronger economics interface in the ASEAN region. As the policy of Global Britain ushers in, which reinforced the UK's commitment to be more outward-looking and globally engaged than ever before, the High Commissioner emphasised that this could be seen through the manifestation of new initiatives of cooperation and a higher level of engagement with the world.
The lecture was well-attended by 88 representatives from relevant government agencies, embassies, think tanks, universities and NGOs. The attendees included officials from the Ministry of Foreign Affairs, Ministry of Defence, Malaysia External Trade Development Corporation (MATRADE), Prime Minister's Department, Ministry of Tourism and Culture, National Professor Council, Malaysian Youth Council, Asian Strategy and Leadership Institute (ASLI), MARA University of Technology, Northern University of Malaysia, as well as Ambassadors and representatives from the Embassies of France, Italy, Germany, Spain and the European Union in Kuala Lumpur.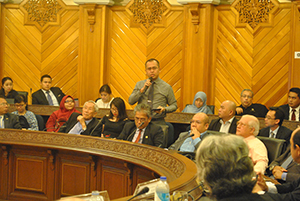 Prepared by:
Centre for Political Studies and Economic Diplomacy (PSED)