Crisis Management Course for International Participants 2011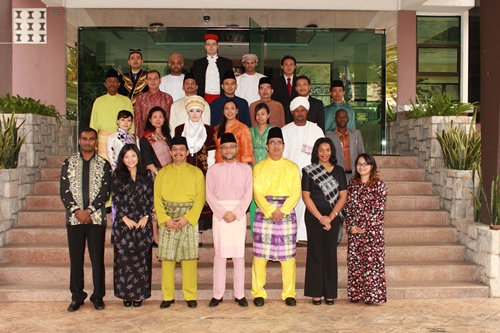 It was a joyous and momentous occasion for the participants of the Crisis Management Course during the Closing and Certificate Presentation Ceremony at IDFR on 25 Nov 2011. The 21 participants were from Cambodia, Cape Verde, Croatia, Indonesia, Kyrgyzstan, Laos, Sultanate of Oman, Philippines, Sudan, Uganda, Uzbekistan, Vietnam and Malaysia had successfully completed the three week course. Although the course was conducted for only three weeks, the course content was very comprehensive and substantial. Most of the lectures given by academicians, NGOs, guest speakers and qualified lecturers touched on the international crisis which also included natural disasters, environmental issues, security concerns, public discontent, general uprising and many other very relevant and interesting subjects.
The participants also had the opportunity to listen to a public lecture on the "Middle East Uprising" given by His Excellency Dr Mustafa Dolatyar, the Director General of the Institute of Political and International Studies, from Teheran, the Islamic Republic of Iran. The public lecture gave some insights about the current crisis situation that occurred in the Middle East and its potential threats to the region.
Among the highlights of the course including the visits to the Royal Malaysian Police Academy, the river cruise in Putrajaya, the Petronas Twin Towers and also the Kuala Lumpur City Tour which delighted the international participants very much. During the duration of the course, the participants were also taken on a working visit to the enchanting Langkawi Island over the weekend. There, the course participants were taken to visit the Langkawi Development Authority (LADA) and given a briefing by the Head of Development Division on the island's future planning. The following day the participants were taken to the Malaysian Maritime Enforcement Agency (MMEA) and had another briefing followed by the simulation exercise by the MMEA on rescuing survivors in the sea. The participants had the opportunity to be on board an MMEA patrol vessel out in the open sea to observe the simulation exercise. It was an excellent opportunity for the course participants to gain first hand experience in MMEA's operations.
In a nutshell, the course participants had expressed their satisfaction and gratitude to be given the chance to attend the course which was fully sponsored under the Malaysian Technical Cooperation Program (MTCP). They had gained a lot of knowledge and information and also made new acquaintances from all over the world. The Closing and Certificate Presentation Ceremony was officiated by Mr Lim Juay Jin, the Director of Training on behalf of the Director General and attended by several Ambassadors from the participants' countries.