Completion of The Diplomatic Training Course for International Participants Series 2/2012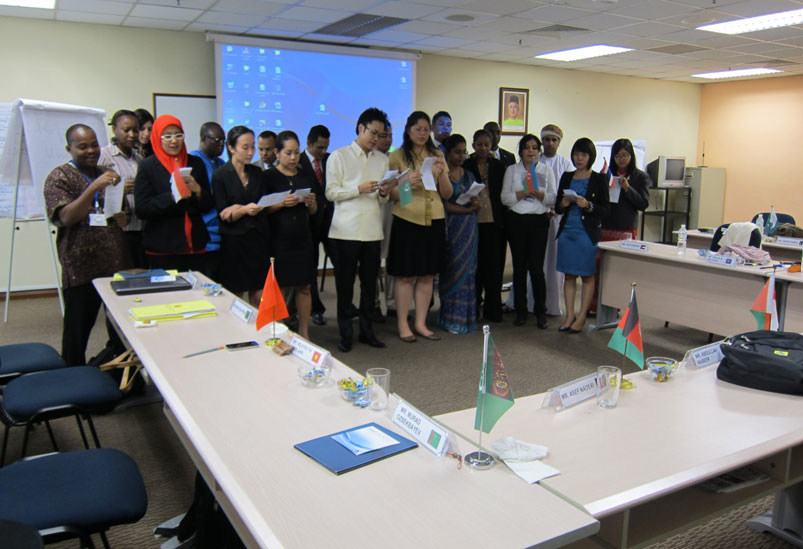 It was a joyous and momentous occasion for the 24 international participants who had just completed the Diplomatic Training Course (DTC) for International Participants Series 2/2012 at the Certificate Presentation and Closing Ceremony at IDFR last Friday 19 October 2012. The ceremony was officiated by His Excellency Dato' Ku Jaafar Ku Shaari, the Director General of IDFR and attended by several Ambassadors, High Commissioners and representatives from the respective embassies and high commissions. This year the course was conducted under the sponsorship of the Malaysian Technical Cooperation Program (MTCP). The participants came from all over the world such as Afghanistan, Azerbaijan, Cambodia, Indonesia, Jordan, Laos DPR, Liberia (first time), Mauritius, Myanmar, Oman, Pakistan, Papua New Guinea, Sri Lanka, Tanzania, Thailand, Tunisia (first time), Turkmenistan, Uganda, Uzbekistan, Vietnam and Yemen.
The young diplomatic officers heaped praises and expressed their appreciation for being given the opportunity to attend the course whereby they had gained valuable knowledge and shared experience with the guest lecturers and speakers. The course was designed to not only impart knowledge in a classroom-style setting but also involved study visits to the various government agencies and ministries around the city and also at Putrajaya. On top of that, the participants were also brought on a field trip to Melaka and Johor where they were given briefings on the state tourism industry and the Iskandar Regional Development Authority (IRDA) respectively. The participants were amazed at the tremendous growth and development that the country had undergone since its independence in 1957.
Overall, the DTC course participants had gained a lot of knowledge and experience through the programmes and modules tailored to meet the standard and requirement of preparing young officers from the diplomatic corps to face challenges in a fast moving global scenario. This message was amply put forth in the Director General's address during the Welcoming Dinner for the course participants at one of the leading hotels in the city. The participants were grateful that the course had made them better prepared and well equipped with the relevant knowledge for their future endeavor in the diplomatic fora.