IDFR Lecture Series 2/2017 "The ASEAN-Australia Relationship and the 2018 Special Summit"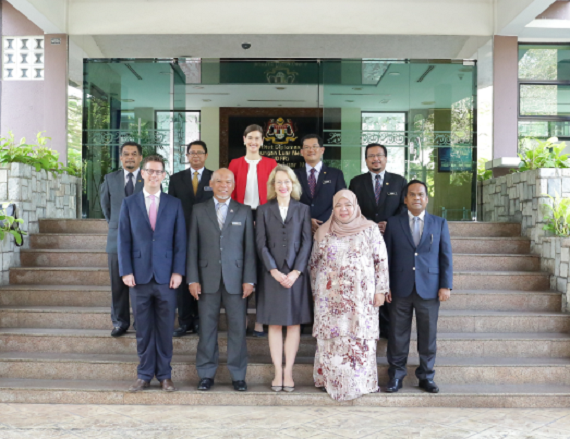 On Thursday, 19 October 2017, IDFR hosted Her Excellency Jane Duke, Australian Ambassador to ASEAN for a lecture titled "The ASEAN-Australia Relationship and the 2018 Special Summit" lecture at the Treaty Room.
Her Excellency began her lecture by highlighting Australia's longstanding relationship with ASEAN, which began in 1974 when Australia became the Association's first dialogue partner. She further highlighted that Australia has benefitted from ASEAN's pivotal role in transforming the region for the last five decades, culminating in a peaceful, stable and prosperous region.
Ambassador Duke assured the audience that Australia remains strongly supportive of ASEAN's unity given the historic shift of power in the region. Australia is also pleased to be an active member of ASEAN's institutions such as East Asia Summit (EAS), the ASEAN Defence Ministers Meeting Plus (ADMM Plus) and the ASEAN Regional Forum (ARF). In the economic fora, ASEAN is regarded as among the most important partner that contributes to Australia's economic prosperity. Currently,
ASEAN is Australia's third largest trading partner and the network of Free Trade Agreements (FTAs) has created the right conditions to boost economic ties between ASEAN and Australia. Ambassador Duke also remarked that the foundation of Australia's strong ties with ASEAN is the long-standing and its extensive people-to-people link.
ASEAN-Australia relationship remains at a high point whereby both parties have extensive cooperation in various fields. A historic step also has been taken by Australia, notably the invitation to all ten ASEAN Leaders to attend the ASEAN-Australia Special Summit in March 2018 in Sydney. Ambassador Duke also remarked that the Summit is the perfect platform to deliver practical outcomes of shared interests in peace, security and economic prosperity.
Among the questions raised were on Australia's stance with regards to the South China Sea issue and the agenda at the Special Summit next year. Ambassador Duke responded that on the South China Sea issue, Australia is looking at legally-binding approaches that conform to international norms and law. She also mentioned that the Summit would include issues on counter-terrorism, cyber security, and economic partnerships and social-education aspects.
The lecture was well-attended by more than 75 representatives from relevant government agencies, embassies, think-tanks, universities and NGOs. The attendees include officials from the Ministry of Foreign Affairs, Ministry of International Trade and Industry, Malaysia External Trade Development Corporation, Asian Strategy and Leadership Institute, Institute of Strategic and International Studies Malaysia and Global Movement of Moderates Foundation, as well as representatives from the Royal Embassy of Cambodia, High Commission of Canada, Embassy of the Republic of Korea, Embassy of the Republic of the Union of Myanmar and Embassy of the Russian Federation in Kuala Lumpur.