Royal Patron of IDFR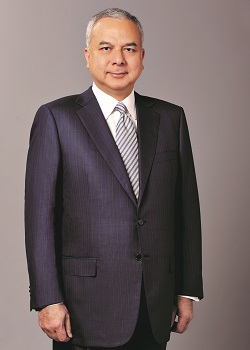 His Royal Highness Paduka Seri Sultan Perak Darul Ridzuan, Sultan Nazrin Muizzuddin Shah Ibni Almarhum Sultan Azlan Muhibbuddin Shah Al-Maghfur-Lah, born on 27 November 1956 in Penang, is the Sultan of the state of Perak.
In the international arena, His Royal Highness represents the government of Malaysia in his role as Financial Ambassador of the Malaysian International Islamic Financial Centre (MIFC). His Royal Highness is also Malaysia's Special Envoy for Interfaith and Inter-Civilisational Dialogue.
His Royal Highness is Pro-Chancellor of the University of Malaya; President of the Perak Council on Islam and Malay Customs; Eminent Fellow of the Institute of Strategic and International Studies, Malaysia; Royal Fellow of the Malaysian Institute of Defence and Security; Member of the Chancellor's Court of Benefactor, University of Oxford and Honorary Fellow of Worcester College, University of Oxford.
His Royal Highness is a Member of the Board of Trustees of the Oxford Centre for Islamic Studies, University of Oxford; Chairman of the Board of Governors of the Malay College, Kuala Kangsar; Royal Patron of the Kuala Lumpur Business Club; and Chairman of the 'MERDEKA AWARD' Board of Trustees.
His Royal Highness holds a B.A. (Hons) degree in Philosophy, Politics and Economics from Oxford University; a Master in Public Administration from the Kennedy School of Government, Harvard University; and a Ph.D. in Political Economy and Government from Harvard University. His research interests are in the areas of economic and political development in Southeast Asia, economic growth in developing countries and economic history.
His Royal Highness has written articles and spoken on a wide range of issues including constitutional monarchy, nation building, Islam, Islamic finance, ethno-religious relations, education and socio-economic development. His Royal Highness was conferred an honorary Master of Business Administration by the Cranfield Institute of Technology, United Kingdom in 1993, an honorary Doctor of Economics by Soka University, Japan in 1999 and an honorary membership of Magdalene College, University of Cambridge, United Kingdom in 2005.
The 426th Armed Forces Council, which convened on 1 April 2004, appointed His Royal Highness as an honorary officer of the Malaysian armed forces, with the rank of Brigadier General.
His Royal Highness is the Royal Patron of IDFR since 2011.
His Royal Highness is married to Tuanku Zara Salim. They have a son and a daughter.