Royal Patron of IDFR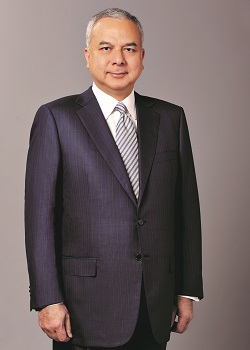 His Royal Highness Paduka Seri Sultan Nazrin Muizzuddin Shah Ibni Almarhum Sultan Azlan Muhibbuddin Shah Al-Maghfur-Lah was born on 27 November 1956 in Penang, Malaysia. He is the Ruler of the state of Perak and a descendent of a dynasty that can be traced back to 1528.
Sultan Nazrin Shah became the 35th Sultan of Perak upon the death of his father, His Royal Highness Sultan Azlan Muhibbuddin Shah on 28 May 2014. His enthronement took place a year later, on 6 May 2015.
His Royal Highness is the Chancellor of the University of Malaya—Malaysia's oldest and most distinguished university. He is also the Colonel-in-Chief of the Regiment of Royal Engineers and of the Royal Medical Corps in the Malaysian Armed Forces.
On the international front, Sultan Nazrin Shah served as co-Chair of the 2015 United Nations High-Level Panel on Humanitarian Financing. He was Malaysia's Special Envoy for Interfaith and Inter-civilisational Dialogue to the United Nations Alliance of Civilisations (UNAOC).
Sultan Nazrin Shah is an Honorary Fellow of Worcester College, Oxford, and of Magdalene College and St. Edmund's College, both of the University of Cambridge. He is a Trustee of the Oxford Centre for Islamic Studies, University of Oxford; Royal Fellow of the Malaysia Institute of Defence and Security; Royal Fellow of the Malaysian Institute of Strategic and International Studies; Royal Fellow of the Institute of Public Security of Malaysia; Royal Patron of the Institute of Diplomacy and Foreign Relations of Malaysia; and Royal Patron (formerly, Financial Ambassador) of the Malaysia International Islamic Financial Centre.
His Royal Highness received his early education at Jalan Kuantan Primary School, and thereafter at St. John's Institution, both in Kuala Lumpur. He subsequently went on to finish his schooling at The Leys School, Cambridge, in the United Kingdom. He then read Philosophy, Politics and Economics (PPE) at the University of Oxford. In addition to his BA degree from Oxford, His Royal Highness holds a Master's degree in Public Administration (Kennedy School of Government) and a PhD in Political Economy and Government, both from Harvard University. He has also received honorary degrees from universities in the United Kingdom and Japan.
Sultan Nazrin Shah is married to Tuanku Zara Salim. They have a son, Raja Azlan Muzzaffar Shah and a daughter Raja Nazira Safya.