The lecture on "Strengthening Diplomatic Ties between the European Union and Malaysia in the face of the Eurozone Crisis" by His Excellency Jacques Santer at IDFR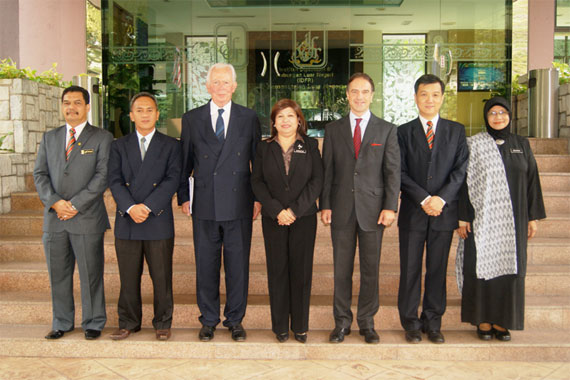 IDFR was honored to have H.E. Jacques Santer, the former President of the European Commission to speak at a lecture entitled Strengthening Diplomatic Ties between the European Union and Malaysia in the face of the Eurozone Crisis at the Treaty Room on 18 September 2013. The event was a joint effort between IDFR and Konrad Adenauer Stiftung (KAS) Foundation, Malaysia, a German think-tank.
The EU enjoys an excellent relationship with Malaysia, both with the individual EU member states and the EU as a regional group. H.E Santer recalled First Senior Official's Meeting (SOM) between Malaysia and the EU in 2005 which he had participated to discuss bilateral relations and cooperation. He continued that the cooperation agreement between the European Economic Community and Malaysia can be traced back to 1980, and proposed that it is about time to consider upgrading the relation between Malaysia and EU from an Enhanced Partnership to a Strategic Partnership. He continued that the EU is keen to expand and broaden its relations with Malaysia to go beyond the trade and economic cooperation and to develop collaboration in the field of counter-terrorism, human rights, justice, democracy and good governance, education, science and technology and other fields. The EU was also keen to assist Malaysia in the transferring of knowledge.
With regards to the Eurozone Crisis, H.E. Santer said that the reason which led to the high employment and the Euro depreciation was largely due to the conflict between the European Union and the member countries national interests. There have been challenges in the structural economic reforms, particularly in the economic convergence to streamline the EU constitution and country's policy. Another reason of the crisis was the Euro Dollars was not the currency of the superpower such the United States Dollars. This has cause negative impact to the value of the Euro currency as it has no capital and political influence.
H.E. Santer ends his lecture by mentioning that the membership of the EU would grow larger in the future. The issues that he foresees were not about the monetary union but economic unity. He predicts that the Eurozone crisis would end in this October, and the EU could recuperate through developing guidelines by the member states to move forward to a better political and economic power in the world.
The lecture was attended by 70 participants, with a strong representation from the diplomatic corps as well as from the various institutions, think-tanks, government ministries and agencies and institutes of higher learning.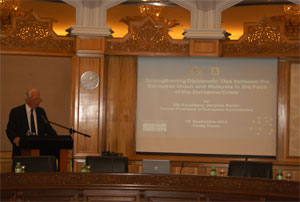 Reported by: Mejar Mohd Ridzuan Mohd Shariff
Regional and Security Studies Division