Outcome of the 23rd ASEAN Summit and Related Summits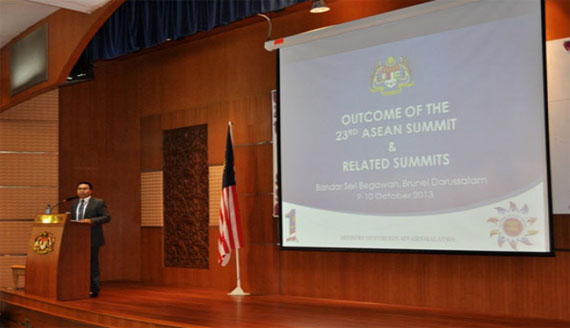 On Thursday, 17 October 2013, the ASEAN-Malaysia National Secretariat of the Ministry of Foreign Affairs, Malaysia organized a briefing at the Ministry's Auditorium on the Outcome of the 23rd ASEAN Summit and Related Summits.
Dato' Muhammad Shahrul Ikram Yaakob, Director General of the National Secretariat briefed the guests, comprising ambassadors and representatives of foreign missions in Kuala Lumpur, on the key points and highlights of the Summits which recently concluded in Bandar Seri Begawan, Brunei Darussalam. He also briefly touched on the outcome documents as well as Malaysia's intervention at the Nine Leaders Meetings. Dato' Muhammad Shahrul Ikram then highlighted several significance of the ASEAN Summit, among which was the announcement made by India to establish a separate Mission to ASEAN with a Resident Ambassador, and the success of the 1st ASEAN-U.S. Summit, where Malaysia welcomed the United States' assistance and collaboration in the areas of cyber security, trade, investments and disaster management.
Dato' Muhammad Shahrul Ikram concluded the briefing by sharing the Summit's achievements and progress, including the wide support received by Malaysia on the concept of moderates, positive developments on the South China Sea issue, acceptance of Malaysia's proposals in the area of functional cooperation through the establishment of an ASEAN-Korea Innovation Centre and the concept of a 'People-Oriented ASEAN'.
Reported by: Syahrul Nizzam Nordin
Academic Studies, Research, and Publication Division