IDFR-UiTM Colloquium: Ensuring Sustainability of Library and Information Science Professionals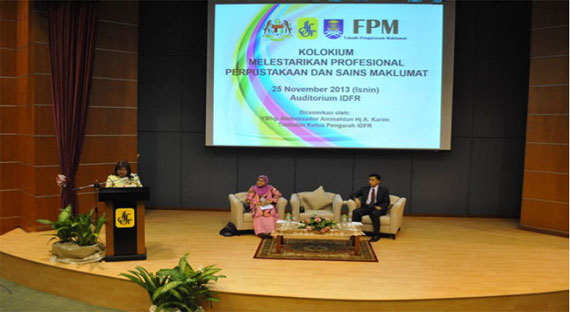 A colloquium jointly organised by IDFR and the Faculty of Information Management (FPM), Universiti Teknologi MARA titled, Ensuring Sustainability of Library and Information Science Professional was held on 25 November 2013 at the Institute. The idea behind this collaboration is to improve the performance of the library; to improve practices that will ensure the sustainability of library professionals; to equip students with the medium and skills needed to face growing environmental changes, and to run a programme as an initiative to produce efficient and sustainable information professionals.
The colloquium commenced with a welcoming remarks by Prof. Dr. Norasiah Hj. Haron, Deputy Dean (Academic) of FPM, followed by the keynote address by Ambassador Aminahtun Hj A. Karim, IDFR's Deputy Director General. Four papers were presented, as follows:
New Demands and Challenges of Information Profession by Encik Dahlan Samad, Director, Human Resource Development, National Library of Malaysia;
Creativity and Innovation by Tuan Haji Azizi Jantan, Senior Librarian, Department of Strategic Planning, Tun Abdul Razak Library, UiTM;
Tools and Technology by Puan Sharifah Fahimah Saiyed Yeop, Senior Executive, IP,Copyright and Records Management (KMU), Universiti Teknologi PETRONAS; and
Skills and Competencies by Puan Hajah Kamariah Jaafar, Deputy Director of IDFR Library.
The Colloquium was attended by lecturers and final year students from FPM; librarians from various agencies including Malaysian National News Agency (BERNAMA) and Institute of Language and Literature Malaysia as well as IDFR officers and staff.
Reported by: Nor Azura Mior Daud
Library, Corporate and Management Services Division