Friday Morning Session: Brainstorming Session on "ASEAN Post-2015 : Outlook and Challenges"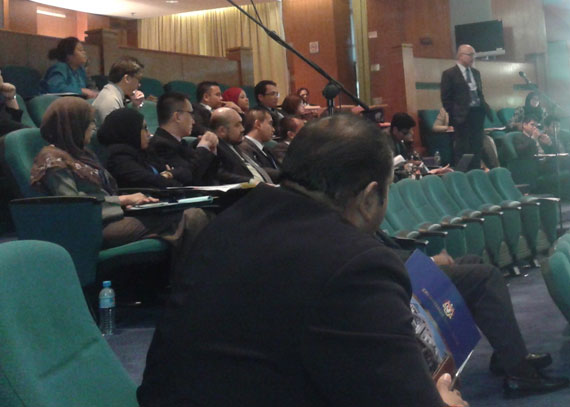 A Friday Morning Session titled, "ASEAN Post-2015: Outlook and Challenges" was held on 19 September 2014, specially organised by the ASEAN-Malaysia National Secretariat in collaboration with the Policy and Strategy Department (JPDS). The session was led by Mr. Westmoreland Anak Edward Palon, Director of ASEAN Political and Security Division (APSC).
The objectives of this session is to gather thoughts and ideas from the officers of Wisma Putra on the direction of ASEAN in conjunction of Malaysia's Chairmanship in 2015; how to cultivate the awareness on ASEAN among Malaysians, and the challenges foreseen post 2015 Chairmanship. The participants shared issues of concern such as people-centered ASEAN, the aspiration and goals of ASEAN to be expressed to be realized rather than rhetoric, and to create a strong, practical, and materialized ASEAN institution. Among the challenges of ASEAN Post 2015 is to integrate the member states to reach a mutual agreement on free trade, human capital and socio-economic development; a consensus by bringing up all member states to compromise while safeguarding the national identity; and the issues of security especially on the South China Sea and transnational crime and terrorism.
This session was attended by officers from various department in Wisma Putra, Southeast Asia Regional Centre for Counter-Terrorism (SEARCCT) as well as from IDFR respectively Mrs. Azmah Mahmud, Mrs. Farah Dibah Abu Hanipah and Mr. Amirul Khairi Mustafa Bakri.
Reported by:
Amirul Khairi Mustafa Bakri
Corporate and Management Services Division