Panel Discussion: "Protecting the Interest of Foreign Workers vs. National Interest"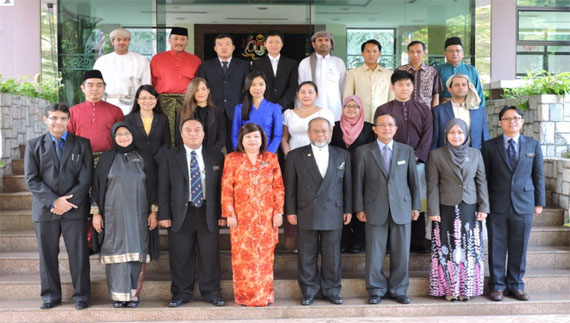 The Institute of Diplomacy and Foreign Relations (IDFR) organised a Panel Discussion: "Protecting the Interest of Foreign Workers vs. National Interest" on 19 September 2014. The panelists were Mr. Hapdzan Husaini, Deputy Director of Foreign Workers Division, Immigration Department of Malaysia and Mr. Rhymie bin Abdul Ramli, Ministry of Human Resources with Dato' Hussin Nayan, Director General of IDFR as moderator. It was attended by participants from the Malaysian Technical Cooperation Programme (MTCP) Strategic Analysis Course as well as staff of IDFR.
The welcoming remarks was presented by Dato' Hussin Nayan. He stated that it was important to study the main issues of foreign workers and methods to deal with the issues due to the country's compliance with international rules and regulations. Dato' Hussin Nayan also mentioned that Southeast Asian countries were among the most affected by foreign workers in order to generate wealth. As a result, security issues went on the rise in those countries.
The first panelist, Mr. Hapdzan Husaini talked about the roles and functions of Immigration Department of Malaysia as well as its objectives in dealing with the issue of foreign workers. According to him, in 2014, Malaysia had two million registered foreign workers, making it the biggest consumer of hiring foreign workers. In the manufacturing sector, 700,000 foreign workers mostly from Indonesia, Nepal and Bangladesh triggered 5% of the country's economic growth annually. There are fifteen source countries that send their workers to work here namely, Cambodia, Laos, Vietnam, Pakistan, and Bangladesh. He also introduced the government-to-government (G2G) mechanism which is a system worked out by the sending country and receiving country to send workers to Malaysia. This comprehensive system protected employees from being exploited.
The second panelist, Mr. Rhymie bin Abdul Ramli continued the discussion by pointing out challenges faced by the country to regulate these foreign workers such as the management of the foreign workers' welfare, the compliance of the minimum level standard and also the international convention that Malaysia had ratified in International Labour Organisation (ILO). In 2013 also, Malaysia had implemented payment of minimum wage and this was also applicable to foreign workers.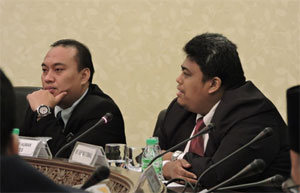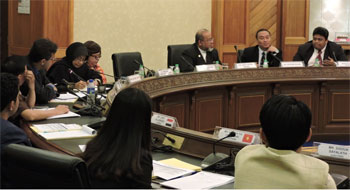 Reported by:
Ernitasimbolon bt Erwan (Intern)
Academic Studies, Research and Publication Division