MTCP: Diplomatic Training Course for Senior Officials from The Government of Timor-Leste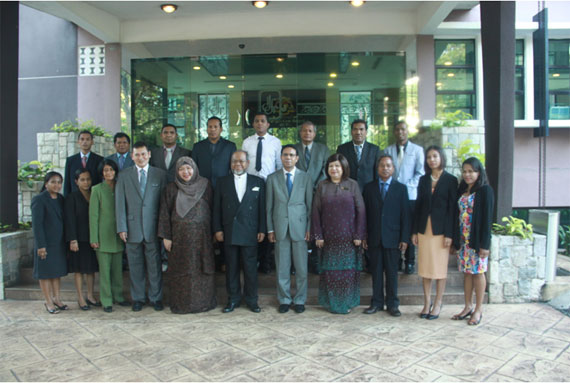 The Diplomatic Training Course for Senior Officials from the Government of Timor-Leste was conducted from 10 – 16 December 2014. The programme was specially tailored by IDFR upon the request by the Government of Timor-Leste to gain understanding on ways Malaysia undertakes its ASEAN integration process, in-line with its effort to join ASEAN. In attendance were 14 senior officers from various ministries and departments of Timor-Leste, which includes the Ministry of Foreign Affairs, Ministry of Education, Ministry of Health, Ministry of Justice, Self Employment Department and Department of Arts and Culture.
During the seven-day programme, a wide range of topics were covered including Human Rights: From Malaysia's Perspectives; Malaysia's Social Security and Welfare, Strengthening Innovation and Entrepreneurship in Malaysia, Malaysia's Chairmanship of ASEAN 2015; The Future of ASEAN and Cross Cultural Communication: In the Context of ASEAN; Government Transformation Plan and Economic Transformation Plan; Human Capital Development and Environmental Policies in Malaysia. The participants also participated in the Human Rights Day 2014 event which discussed on "The Universal Declaration of Human Rights 1948 and The Federal Constitution of Malaysia 1958: An Appreciation".
Apart from the substantive elements, the participants were also introduced to Malaysia's State Governance system, through a visit conducted to the state of Perak. There, they received introductory briefings on history, economics, cultural and political aspects of Perak from the Perak Economic Planning Unit (EPU) and the Northern Corridor Economic Region (NCER). The participants also visited the Parliament as part of introduction to Malaysia's governance system.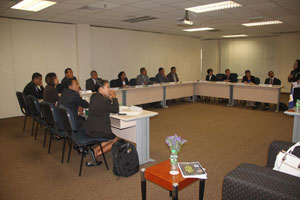 Reported by:
Nik Nazarina Nek Mohamed
Training Division