IDFR Lecturer Series 3/2015 "China's One Belt, One Road Initiative : Strategic Implications, Regional Responses"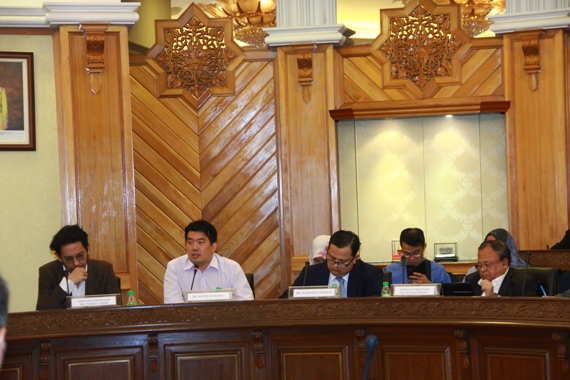 The Silk Road Economic Belt and the 21st Century Maritime Silk Road – collectively called "One Belt, One Road" – represents an initiative of unprecedented ambition and proportions. The Silk Road Economic Belt envisages a series of transcontinental links between China and Europe via Central, South and West Asia. The 21st Century Maritime Silk Road, on the other hand, is aimed at connecting the economies of East Asia and Europe through the South China Sea and the Indian Ocean in one route, and the South Pacific in the other. In order to explore its implications and potentials, the Institute of Diplomacy and Foreign Relations (IDFR) organised a roundtable discussion entitled "China's One Belt, One Road Initiative: Strategic Implications, Regional Responses" on 11 June 2015. The panel discussion consisted of Associate Professor Dr. Farish A. Noor, S. Rajaratnam School of International Studies, Nanyang Technological University, Singapore and Distinguished Fellow of IDFR, Mr. Shahriman Lockman, Senior Analyst, Institute of Strategic and International Studies (ISIS) Malaysia, Associate Professor Dr. Ishtiaq Hossain, Department of Political Science, International Islamic University Malaysia and Dr. Ngeow Chow Bing, Deputy Director and Senior Lecturer, Institute of China Studies, Universiti Malaya as the moderator.
YBhg. Dato' Hussin Nayan, Director General of IDFR, in his welcoming remarks expressed that Malaysia and China have enjoyed strong ties especially since the elevation of the bilateral relations mechanism from trade agreement to comprehensive agreement in October 2013. He explained that there are a lot of potentials from the initiative to be mutually explored and would benefit both countries. He further suggested that Malaysia must be ready to engage China more actively as 'all roads now lead to Beijing', as all roads have led to Rome in the past.
Dr. Ngeow started the session by stating that China's One Belt, One Road Initiative has fascinated many countries, including South Korea which is currently very enthusiastic to be included in the initiative. Malaysia must realises the significance of the project and embark on the possibilities of repositioning its policies to optimise the impacts and benefits of the initiative to the country. The United States (US) has also repositioned its thought and direction on China, as it is inevitable to note that the pressure is now derived from the East. China will not merely be observed as an East Asian power but a Eurasian power as it will soon be setting and offering its own rule, vision, framework and structure. The Sino-Centric alternative will be a worldwide drive that will redefine the global and regional situation.
However, Dr. Farish. A. Noor said that Asia is now at a juncture in the recreation of global human history where Asia can redefine its position, as well as its political terrain and structure in the spirit of coexistence. Citing a book by Kirti N. Chaudhuri entitled "Asia Before Europe", history has shown that Asia was a stable continent in the past 2,000 years that stand and support each other hand-in-hand on mutual interaction and dependability. The interest on trading and economy has always been primarily interactive in the past and current times. Despite China's remarkable achievement in economic expansion throughout the region, China is notedly absent in injecting its cultural hegemony compared to the Western countries (where their cultural hegemony is omnipresent). He advocates ASEAN countries to maintain its pragmatic realism approach towards China, and urges for continuous engagement with China in positive and beneficial way through continuous dialogue and engagement with China.
Mr. Shahriman made a point that out that the economic initiative (specifically the Maritime Silk Road Initiative) mooted by China has reshaped the economic geography in Asia. He explained the underpinnings of China's One Belt One Road Initiative as to be open, flexible, and long term, and he further streamlined three main drives behind Malaysia's response to this initiative: the interest of Malaysia; ASEAN inter-relations realm; and refusal of any major power to dominate the project. In addition, Malaysia also stands to benefit economically from the One Belt One Road.
The final speaker, Dr. Ishtiaq Hossain continued the discussion by stating that China possess an advantage over the United States; China does not interfere in any domestic affairs. The new realism championed by China focuses on economic development and attempts to empower its cultural hegemony, mostly on the importance of Mandarin as one of the world's most spoken language. At this juncture, the initiative is positive for Asia to reshape the world with a new understanding towards a fresh and new world order.

Reported by:
Mohammed Nur Anuar bin Nordin
Diploma in Diplomacy 2015