The New Intake for Master of Social Sciences in Strategy and Diplomacy Session 2015/2016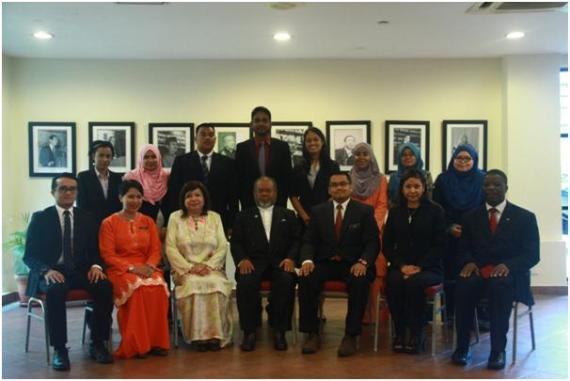 IDFR welcomed the new intake for Master of Social Sciences in Strategy and Diplomacy Session 2015/2016, a joint programme between IDFR and UKM, which has marked its 16th year collaboration. Eleven students registered on 1 September 2015, and this was followed by the orientation programme until 4 September 2015.
The four-day orientation programme was conducted at IDFR and UKM, and was packed with briefings, visits, and interactive sessions. On the first day, Puan Romaiza Ab Rahman, Director of Competency Enhancement Centre (CEC), IDFR, gave her welcoming remarks and shared some information on IDFR. Later, Assoc. Prof. Dr. Kuik Cheng Chwee, UKM's Programme Coordinator and also one of the programme's instructors, took the floor to inform the new students on academic related matters and details of the programme. During the orientation programme too, the students had the opportunity to have interactive sessions with Prof. Dr. Hazita Azman, Dean, Faculty of Social Sciences and Humanities, UKM (FSSK), Prof. Dr. Sity Daud, Chairperson, School of History, Politics, and Strategic Studies (PPSPS), and Dato' Hussin Nayan, Director General, IDFR. The programme comprised as well a session on Academic Writing by Puan Zaidah Hashim, and Prof. Dato' Dr. Zakaria Haji Ahmad's first lecture on Strategy and International Security: Concepts and Theories. As part of the future academic support, the students visited IDFR, UKM and ISIS libraries for familiarisation.
The students commence their classes at IDFR from 7 September 2015.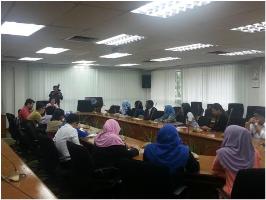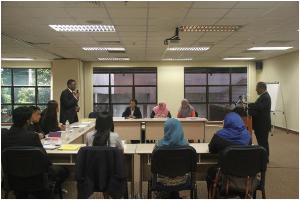 Reported by:
Ong Teck Leng (Intern)
Competency Enhancement Centre