Public Lecture by Ms. Helen Clark : Sustainable Development Goals: Key Considerations for a People-Centred ASEAN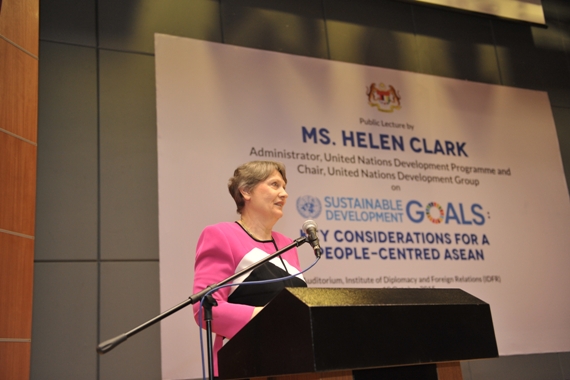 From 25-27 September 2015, world leaders gathered in New York to review the success and remaining challenges of the Millennium Development Goals, and adopted the Sustainable Development Goals (SDGs) at the Development Summit of the United Nations General Assembly. The 17 SDGs, which will set the future course of economic and social development over the next 15 years, are aspirational, comprehensive and holistic. They are people-centred and aim to end poverty in all its forms and promote healthy lives and wellbeing for all. They are also planet-sensitive, seeking to drive urgent action to combat climate change and its impact and to conserve and responsibly use oceans and marine resources for sustainable development.
The Institute of Diplomacy and Foreign Relations (IDFR) in collaboration with United Nations Development Programme (UNDP) and the Asian Strategy and Leadership Institute (ASLI) co-organised a Public Lecture by Ms. Helen Clark, Administrator of the United Nations Development Programme and; Chair of the United Nations Development Group entitled "Sustainable Development Goals: Key Considerations for a People-Centred ASEAN" On the 19th of October 2015. The event was graced by the Honourable Dato' Sri Reezal Merican Naina Merican, Deputy Minister of Foreign Affairs, Malaysia.
In his opening remarks Dato Sri' Reezal stressed the importance of establishing a people oriented region and for world leaders to adopt the 2030 Sustainable Development Goals. These goals, he said, will help confront the many challenges the region is currently facing; poverty, environmental issues and climate change.
Ms. Clark explained the 17 Sustainable Development Goals (SDG) adopted by world leaders during the Development Summit of the United Nations General Assembly in September 2015. Ms. Clark further clarified that the goals are bold, ambitious agenda and have been developed in a very inclusive way. To successfully implement these Goals according to her, there will be five specific challenges;
i) Persistent inequalities and ongoing discrimination;
ii) Jobs deficits and its implications, particularly the youth;
iii) Rising environmental challenges, including climate change, biodiversity loss, deforestation, air, water and soil pollution;
iv) Impact of natural disasters; and
v) Conflict.
Ms. Clark further stressed that the whole of UN development system is committed to working with ASEAN member countries to implement the 2030 agenda through the MAPS approach - Mainstreaming, Accelaration and Policy Support. This approach according to her, seeks to build and facilitate partnerships, improves data and deepens accountability. Ms. Clark also reaffirmed that UNDP will support global and local advocacy around the SDGs and promote broad engagement in implementation and in monitoring progress.
In conclusion Ms. Clark reiterated that despite SDGs big a tall order, it seeks to improve livelihood of mankind especially the hundreds of millions of people who continue to live in extreme poverty, and for the prospects of the one planet which we all depend on.
The lecture received overwhelming response from almost 250 participants of members of the diplomatic corps, senior government officials, academics, think tanks and students.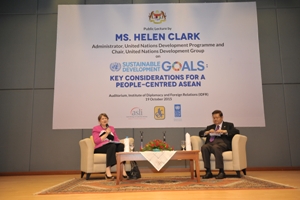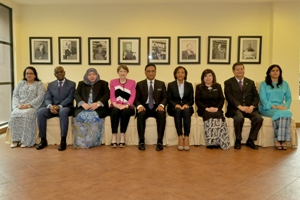 Reported By:
Ms. Eminder Kaur Kawan Singh
Centre for Political Studies and Economic Diplomacy