The 10th Pok Rafeah Public Lecture: Goodbye Miracle Eight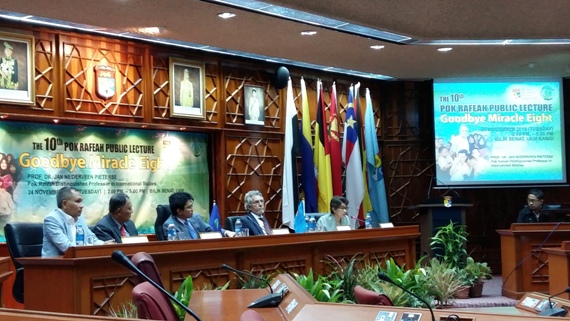 Universiti Kebangsaan Malaysia (UKM) organised the 10th Pok Rafeah Public Lecture titled Goodbye Miracle Eigh' by one of its Distinguished Professors in International Studies, Prof. Dr. Jan Nederveen Pieterse on 24 November 2015. Prof. Dr. Pieterse is an author and editor of 21 books, and specialises in globalisation, development studies and cultural studies, with a current focus on 21st century globalisation. The public lecture is the final of a two-part series which began with the first lecture by Prof. Dr. Pieterse on 24 November 2014. The welcoming remark was delivered by rof. Datuk Dr. Noor Azlan Ghazali, Vice Chancellor of UKM and the opening address was delivered by YAM Tunku Zain Al-Abidin Ibni Tuanku Muhriz, President of the Institute for Democracy and Economic Affairs (IDEAS).
Miracle Eight is a term coined by the World Bank in the 1990s for eight high-performing Asian countries (South Korea, Taiwan, Hong Kong, Malaysia, Thailand, Indonesia, the Philippines and Singapore) that were marked to achieve developed country status with relatively egalitarian economies and consolidated democracies. While South Korea and Taiwan have achieved advanced industrialisation, low GINI indices and democratisation, the realities in South East Asia have not quite met the expectations. Steady growth had been observed in quantity rather than quality, which Prof. Dr. Pieterse argued is leading to a cul de sac. As the manufacturing sector becomes increasingly competitive worldwide, options for manufacturing export-led growth and industrial upgrading have significantly narrowed for many developing countries. Prof. Dr. Pieterse attributed the ineffective utilisation of industrial development opportunities in Southeast Asia to several factors. The nature of political institutions in the region is regarded as one of the internal hurdles that need to be overcome. Developments in Southeast Asia are also influenced by the increasing China-centric value networks (bamboo capitalism) in East Asia, as observed by estimated $2 trillions worth of investments made by China both regionally and globally.
Prof. Dr. Pieterse regarded the young population of Southeast Asia as a major asset to the region, complemented with a structural advantage of geographical proximity to rising China and enhanced by China's regional infrastructure investments. Multiculturalism is Malaysia's major positive asset as it enables Malaysia to have strong connections to other regions, such as links to the Middle East and West Asia through Islam, links to China and Chinese diasporas in the region, and similarly links to India. These cultural affinities and social capital give Malaysia a wider radius and greater economic potential and appeal than most Southeast Asia countries in relation to tourism, markets, SMEs, finance and investment. To seize the opportunities of the 21st century and achieve sustainable development, Prof. Dr. Pieterse called for adjustment needs to existing institutions, and recommended power sharing to enhance social trust and political stability as well as contribute to wider external relations.
Reported by:
Sarah Ruhama
Centre for Political Studies and Economic Diplomacy