Young Diplomats Programme for Johor Student Leaders' Council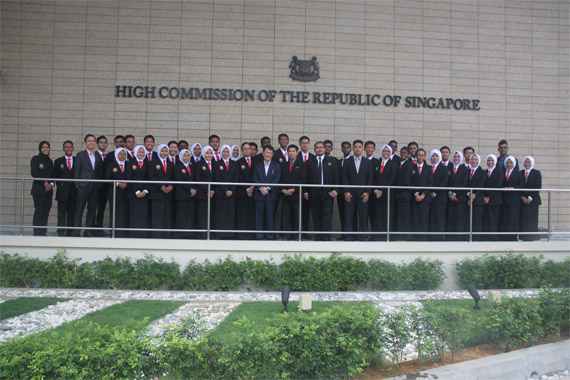 IDFR once again collaborated with the Johor Education Department and the Iskandar Regional Development Authority (IRDA) to organise the Young Diplomats Programme for Johor Student Leaders' Council (JSLC) from 21 to 25 March 2016.
The programme is designed to cultivate the participants' interest and to familiarise them with current international diplomatic practices and other areas in international relations. Throughout the five-day programme, the participants underwent classroom lectures, briefings, discussions, group and individual practical and simulation exercises , study visits and briefings. This integrated teaching and learning methodology is adopted in order to meet the objectives of the programme which include to expose the participants to key principles of diplomacy and foreign relations; to familiarise them with diplomatic and communication skills; and to advance their knowledge and proficiency of the English language.
The programme began with introduction to the key role of the Ministry of Foreign Affairs as well as Malaysian Missions Abroad. The participants were exposed to the Ministry's formulation and its implementation of foreign policy, ASEAN and diplomacy during their one-day visit to the Ministry in Putrajaya. On the third day, they were taken to two foreign missions, namely, the Embassy of the Bolivarian Republic of Venezuela and the High Commission of Singapore in Kuala Lumpur. The visit enlightened their knowledge and understanding of these two countries as well as the role of Missions in Malaysia and their bilateral relations with the host country.
A diplomat must acquire knowledge on social etiquette and protocol as well as insight on culture. As such, on the fourth day, the participants attended a lecture on protocol, grooming and social etiquette, delivered by Mr. Sophian Ab Rahman, the Protocol Officer of the National Palace. The session was followed by a fine dining practical at Berjaya Times Square Hotel where the participants were guided on one of the most important social skills of a diplomat.
The Closing and Certificate Presentation Ceremony was held on 25 March at IDFR and the ceremony began with a Zapin performance by the participnats. Datuk Salman Ahmad, the Director General of IDFR, delivered the Closing Remarks and presented the certificate of attendance to the participants. This was followed by a remark of appreciation by Mr. Ahmad Faidzul Mat Yazid, representative from the Johor Education Department.

The programme received positive feedback from the participants and IDFR hopes to further collaborate with the Johor Education Department and IRDA to organise similar programmes.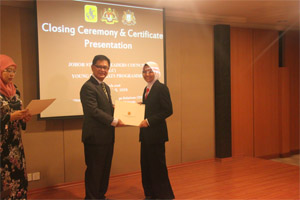 Reported by:
Muhammad Ariff Mohamad Nizam