ASEAN Ambassador Lecture Series 1/2016 Vietnam's Economic Security By H.E. Pham Cao Phong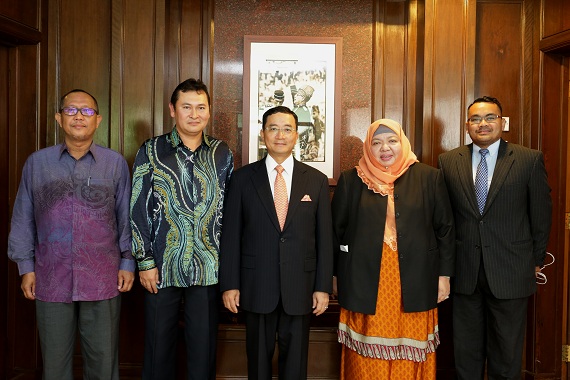 On 28 May 2016, IDFR under its ASEAN Ambassador Lecture Series organised a lecture with the theme Vietnam's Economic Security by H.E. Pham Cao Phong. The ASEAN Ambassador Lecture Series is one of IDFR's flagship discourses which aims to strengthen ties with fellow ASEAN countries and to discuss recent issues in the region. The programme commenced with Welcoming Remarks by Madam Norani Ibrahim, IDFR's Director of Special Projects who praised the thriving growth and transition of Vietnam's economy and the close bilateral ties that Malaysia and Vietnam enjoy for more than 40 years.
The steady and vibrant economic growth in Vietnam at more than 6 percent per annum has put the country as one of the fastest growing economies in South East Asia. This was achieved despite the recent challenges and instability in the global economy. How does this then translate to Vietnam's economic security and what are the issues and challenges for Vietnam related to it?
H.E. Pham Cao Phong began by enlightening the audience of the two school of thoughts in economic security; one emphasizing on the internal dimension and the other on external dimension. The internal or human dimension of economic security is the ability to satisfy people's "needs and wants" and focuses more on welfare of the people. The external dimension of economic security on the other hand, emphasizes on external threats or factors affecting a country. It's state ability to protect against attack on its sovereign affairs and absence of fear that such values will be attacked. The two parameters that are commonly used to measure economic security are trade and investment. With the increased engagement of developing countries with the global economy, this has become a salient dimension to be addressed. Vietnam considers both dimensions as important and applicable to them and try to develop a new concept of economic security that includes both external and internal dimension.
When it comes to issues and challenges in economic security, H.E Pham Cao Phong mentioned four issues. The first one is poverty and hunger. While Vietnam has achieved the Millennium Development Goal, hunger and poverty is still an issue up to this day. In 2015, about 5% of Vietnamese households are still considered poor. This 5% are mainly from the ethnic minorities living in remote areas. Due to remoteness, the ethnic minorities have poor access to public and welfare services such as healthcare, education, cultural activities, information provision and credit provision. Poverty arises from various factors such as low income, traditional custom, low levels of educational attainment, as well as ecological damage to poor agricultural management, among others. The result of poverty eradication effort is not good enough and important income gaps still remain.
The second one is economic integration with the world economy. H.E. Pham acknowledged this is as a controversial issue as it involves the country's sovereignty but at the same time to be balanced with commitments made with other countries. Given the situation of today's world economy and globalisation, it is vital for Vietnam to bring itself into the world and join the integration as it is not only pertinent to the external dimension of economic security but can also be one of the measures to solve internal issues from human dimension like poverty and hunger. However, there are challenges in integration with the world economy; one being securing the foreign direct investment, two being securing domestic markets and three being the threat of foreign direct investment itself. Nevertheless, these three challenges will not hinder Vietnam from joining the economic bloc as competition and cooperation are mutually reinforcing.
To ensure economic security in Vietnam, various consistent efforts have been taken by the government. To eradicate poverty, Vietnam aims to reduce the number of poor households with a rate of 1 – 1.5% per year under two programmes ; Programme for Quick and Sustainable Eradication of Poverty in 61 Poor Districts and Programme on National Targets on Sustainable Eradication of Poverty 2016-2020. To ensure economic security from the external dimension, Vietnam with the newly elected National Assembly will start the ratification process of TPPA at the Assembly's first session. Vietnam has also actively participated in bilateral and regional free trade agreements such as ASEAN Economic Community (AEC) and Regional Comprehensive Economic Partnership (RCEP).
H.E.Pham concluded the lecture with a view that remaining underdeveloped is the greatest threat to Vietnam's national security. Therefore, economic security becomes an important factor of the country's comprehensive plan and it is also important for Vietnam as it creates conditions favourable for enhancing national defence and its military capacity.
The event was well was well attended by members of the diplomatic corps, senior officials of Wisma Putra, NGOs, think tanks, government agencies and academics.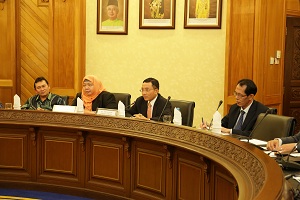 Reported by,
Norhidayah binti Md Raziap
PSED