Reflecting the Past: The Rio Earth Summit 1992… Stories behind the Scenes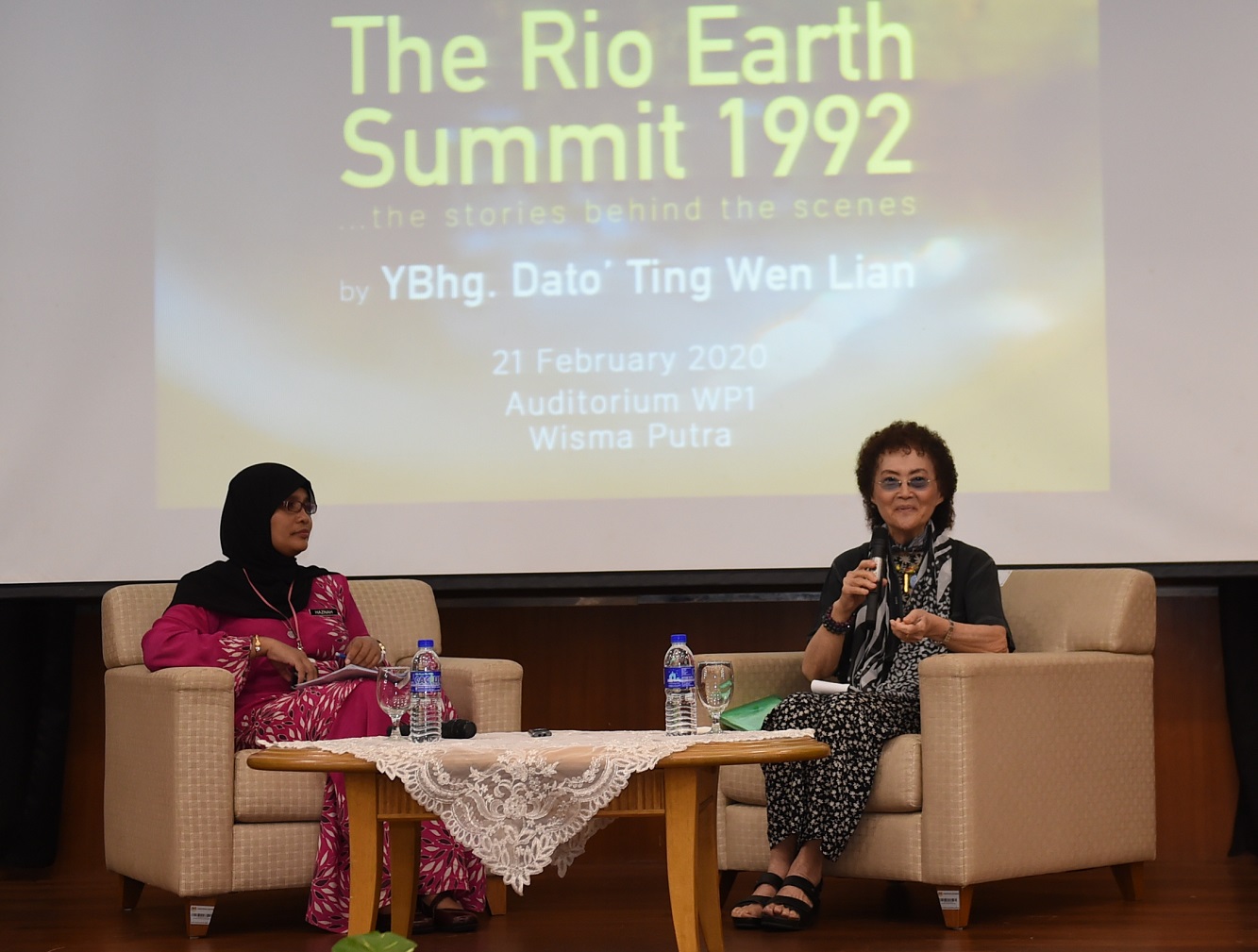 The Centre for Leadership, Negotiation and Public Diplomacy (LNPD), IDFR in collaboration with the Human Resource Management Division (BPSM), Ministry of Foreign Affairs, Malaysia, organised its second Tacit Knowledge programme titled, Reflecting the Past: The Rio Earth Summit 1992… Stories behind the Scene on 21 February 2020, at the Auditorium WP1, Wisma Putra.
The guest speaker was YBhg. Dato' Ting Wen Lian, former High Commissioner to Fiji and Ambassador to Italy, as well as former Permanent Representative to the United Nations' Environmental Program (UNEP) and the United Nations' Food and Agriculture Organization (FAO) based in Rome, Italy. She had served for 27 years in the diplomatic career at Wisma Putra and posted to several missions such as in Washington, USA; Paris; France; as well as in Tunisia and Algeria. The session was moderated by Ms. Haznah Md Hashim, Undersecretary for Multilateral Economic and Environment Division (MEED), Wisma Putra.
During the session, Dato' Ting shared her previous experiences in dealing with global environmental concerns and food issues. As the representative to the Government of Malaysia, she voiced out our commitment and readiness to the Rio Earth Summit in 1992 with the issues of water scarcity, the consumption of toxic and chemical components, and finding other alternatives for sources of energy to replace the fossil fuels which are linked to global climate change.
The original name for the Rio Summit 1992 was the United Nations' Conference on Environment and Development (UNCED) and it was started in 1989 with four preparatory meetings. Dato' Ting compared the environmental issues nowadays with the situation 27 years ago, i.e. on the Penan people in Sarawak and the palm oil industry, although two very different issues but yet are similar. Dato' Ting also emphasised that our national sovereignty is the main concern above all, as she argued that the advanced nations were the ones which contributed towards the environmental issues, yet they were the ones which should decrease on the pollution and deforestation, but then created laws and regulations to be implied on the rest of the global community including Malaysia.
The session was also attended by YBhg. Datuk Rahimi Harun, Deputy Secretary General of Management Services, Ministry of Foreign Affairs Malaysia, and YBhg. Dato' Mohd Zamruni Khalid, Director General of IDFR. They also participated actively in the Question and Answers session with Dato' Ting.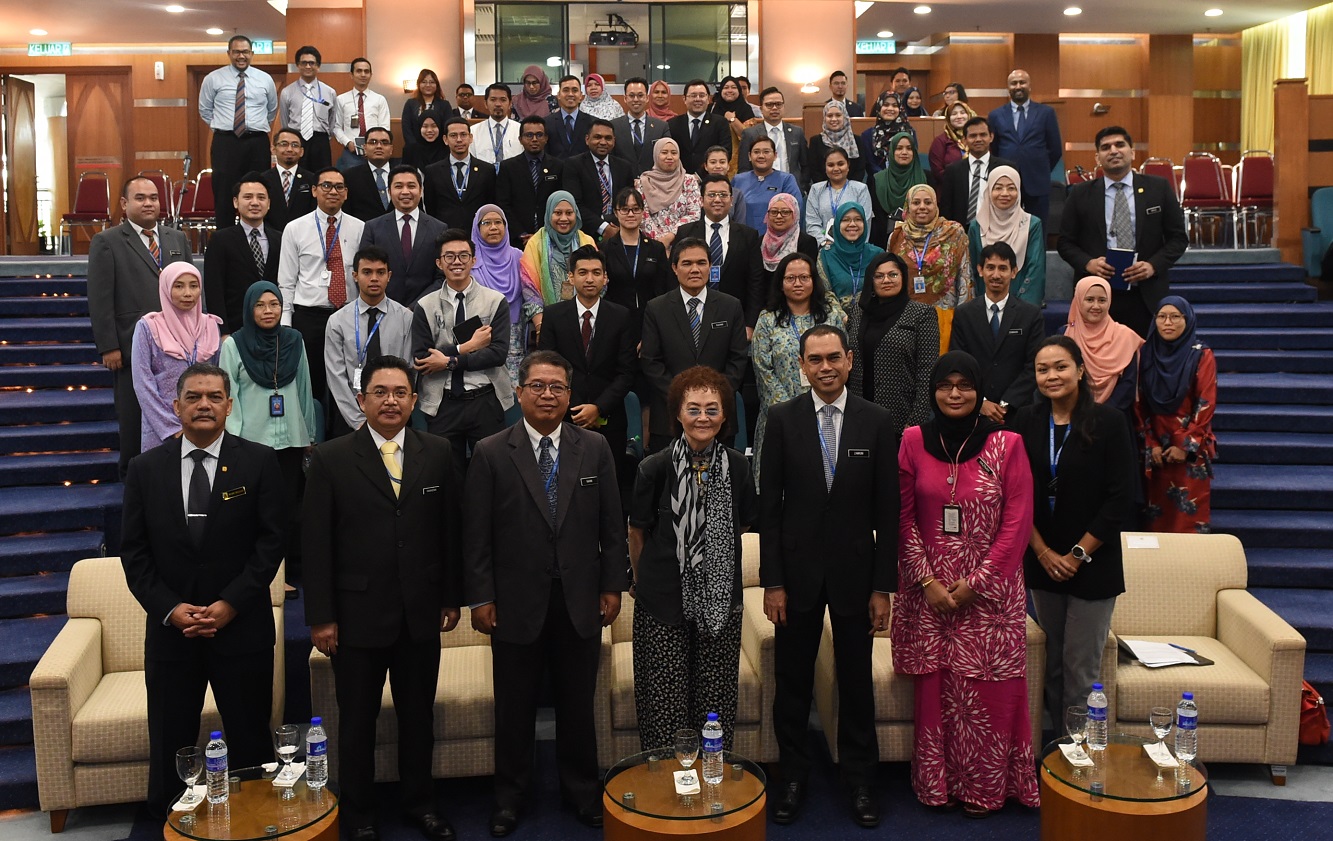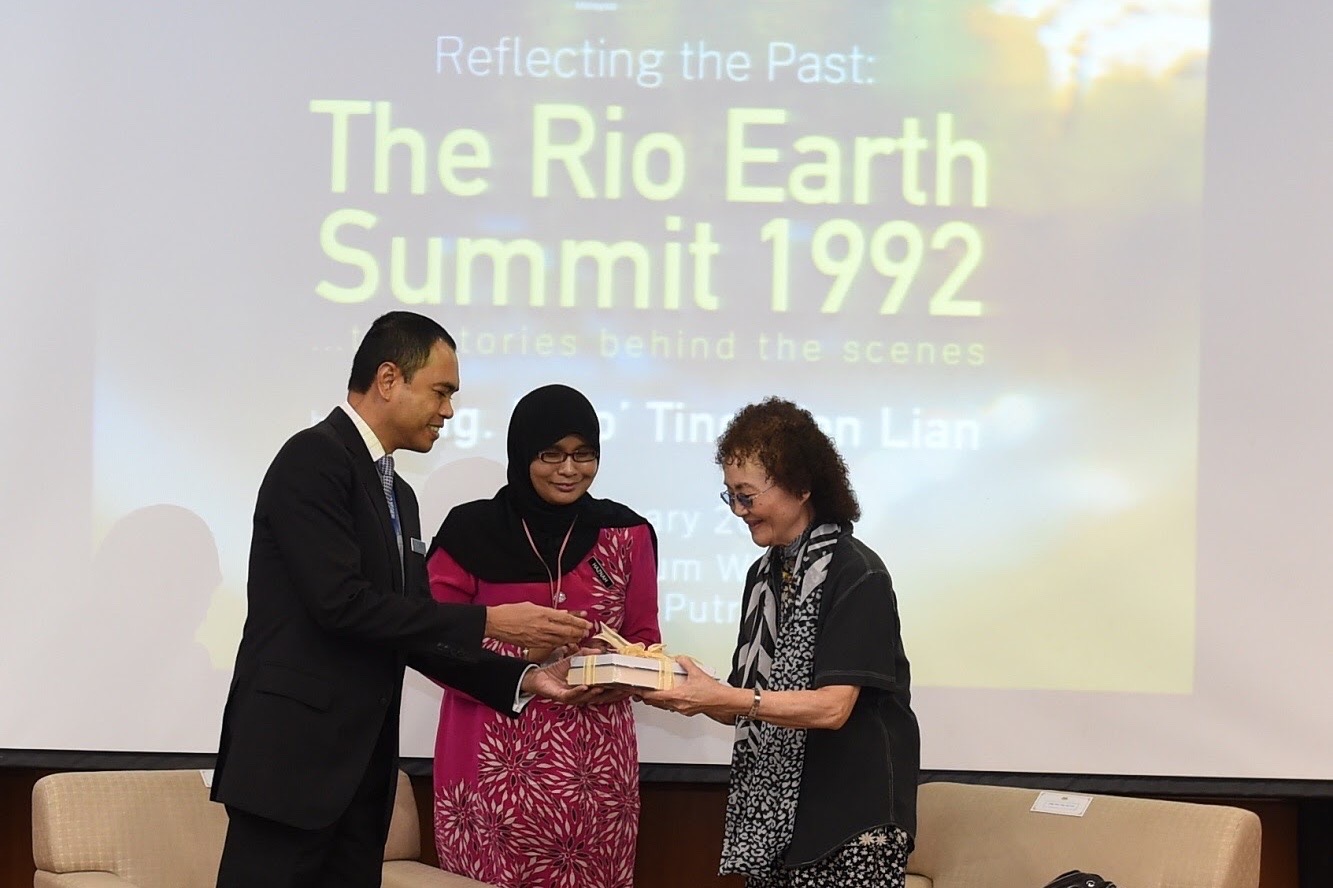 Prepared by:
Centre for Leadership, Negotiation and Public Diplomacy (LNPD)