Economic Diplomacy Course 2021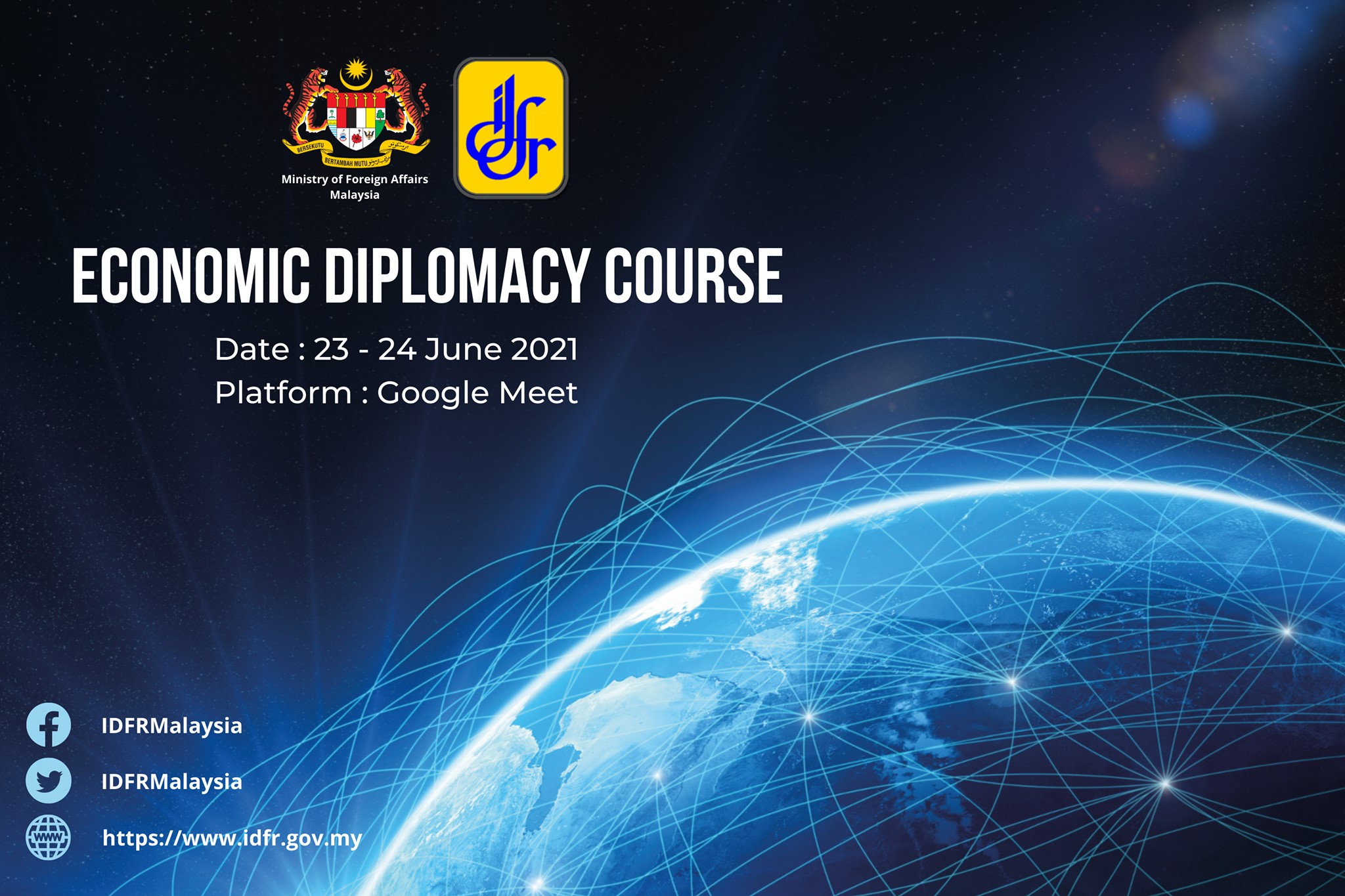 The Economic Diplomacy Course 2021 was conducted from 23 to 24 June 2021. The objective of the course is to enhance participants' knowledge on the principles and tools of economic diplomacy and its importance as well as challenges in promoting economic integration at regional and international levels. The course also hoped to give an overview of the current economic environment due to COVID-19 while also serving as a platform for exchanging of views and opinions among the participants on related issues.
Due to the extension of the Movement Control Order (MCO) 3.0, the course was fully conducted via Google Meet and was attended by 43 participants (Grade 41 to 48) from various ministries namely, Ministry of Domestic Trade and Consumer Affairs, Ministry of Rural Development Malaysia, and Ministry of International Trade and Industry, among others.
The first day included a topic on Introduction to Malaysia's Foreign Policy & Strategic Plan 2021-2025 which was delivered by YM Raja Saifful Ridzuwan Raja Kamaruddin, Deputy Director General, Department of Policy Planning & Coordination, Ministry of Foreign Affairs. He affirmed that Malaysia's foreign policy constantly revolves around the concept of promoting the country's national interests and safeguarding its sovereignty. Following that was a topic on Introduction to Economic Diplomacy in the era of COVID-19 Pandemic by Prof. Dr. Sufian Jusoh, Director of Institute of Malaysian and International Studies, National University of Malaysia, who shared that "the more powerful a state become, the stronger their economic activity will be, but not necessarily its economic influence". The last session of the day was The Roles of FTAs and FDIs in Malaysia's Economic Growth by Dr. Juita Mohamad, Fellow in Economics, Trade and Regional Integration, Institute of Strategic and International Studies (ISIS).
The deliberation on Free Trade Agreements (FTAs) and Foreign Direct Investments (FDIs) continued into the final day of the course with sessions on Malaysia's International Trade Policy: Issues & Challenges by Mr. Abu Bakar Koyakutty, Senior Director of Export Promotion & Market Access Division, Malaysia External Trade Development Corporation; The Malaysian Economy and Economic Responses to COVID-19 by Mr. Abu Zeid bin Mohd Arif, Deputy Director, Macroeconomics Division of the Economic Planning Unit, Prime Minister's Department; and lastly ASEAN and Regional Trade by Mr. Mohd Zahid Abdullah, Senior Director of ASEAN Economic Integration Division, Ministry of International Trade and Industry. These sessions, together with that of Dr. Juita's, touched on the vital roles that FTAs and FDIs play in our country's growth and development. Additionally, Malaysia's strategic position within the ASEAN region offers numerous economic opportunities, particularly through the bilateral relations with other nations in the hopes of receiving beneficial and favourable outcomes.
Based on the participants' feedback, they had benefitted immensely from the course and look forward to applying their newly acquired knowledge in their workplace. They were also very satisfied and pleased with the smooth flow of the two-day course and suggested that the course be held physically once the nation's pandemic situation eased.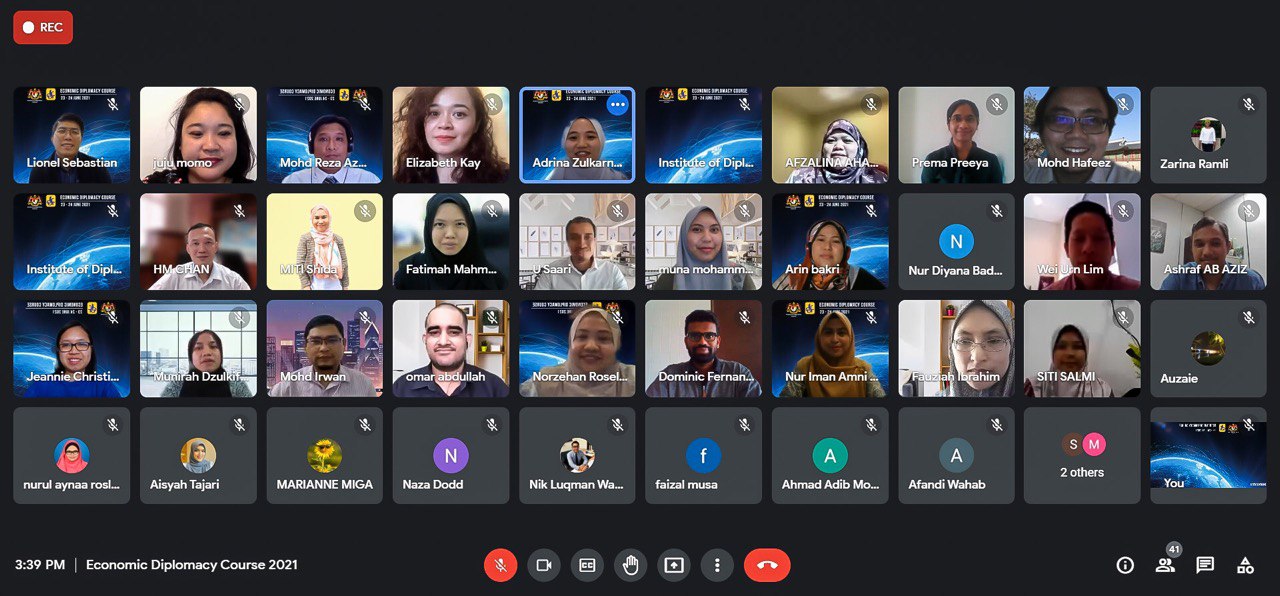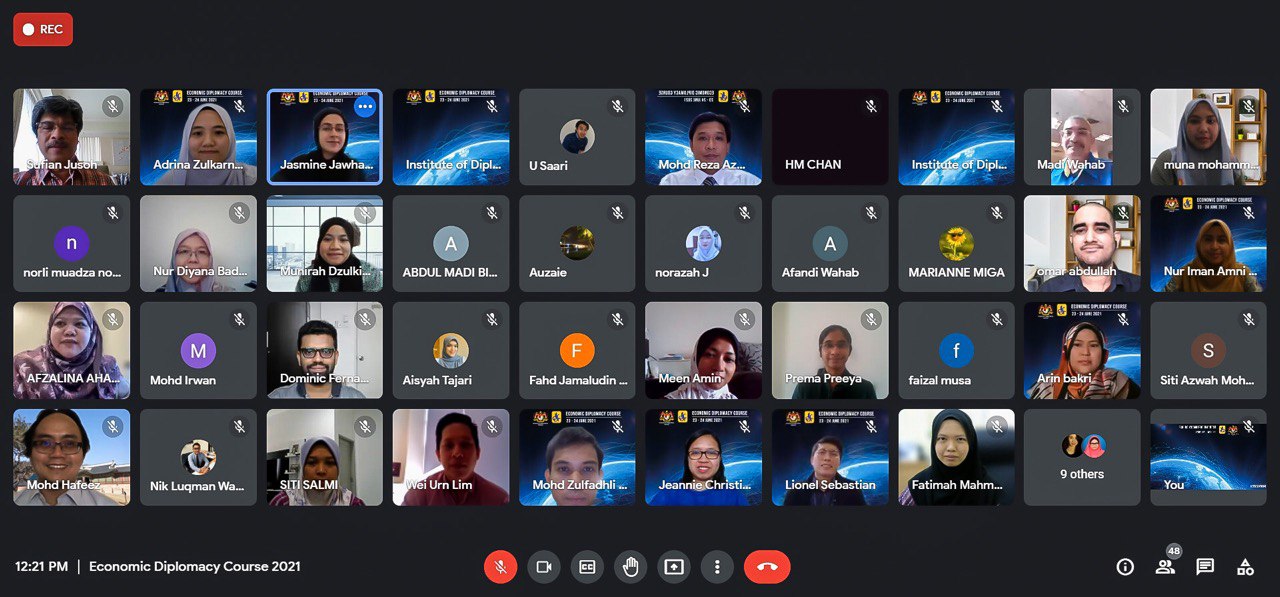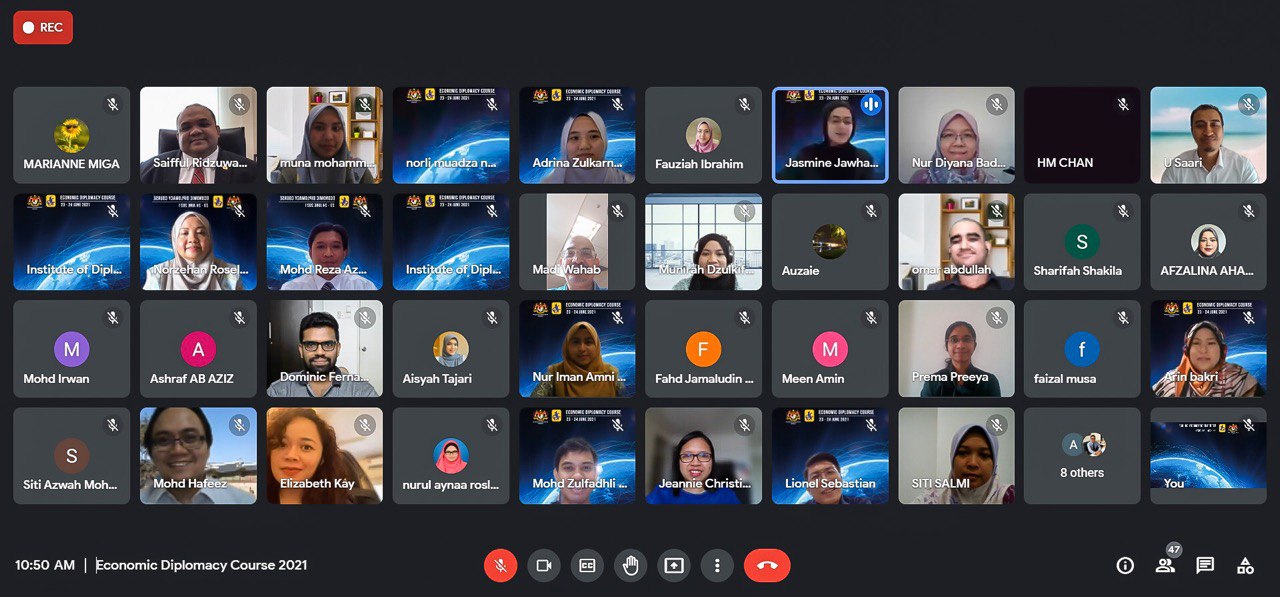 Prepared by:
Centre for Political Studies and Economic Diplomacy (PSED)