PWP: Professional Writing Programme 2023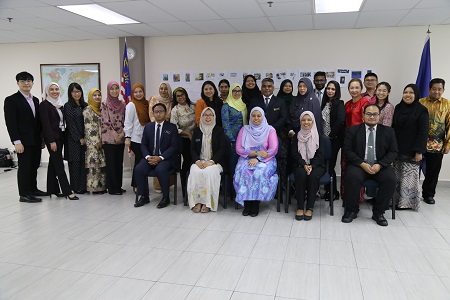 The Centre for Languages and Cultural Diplomacy (CLCD) recently completed its newly rebranded English programme, PWP: Professional Writing Programme 2023. With the consciousness of the English language constantly evolving in nature and the various written platforms we engage in daily life, especially at work, the ELT Trainers at IDFR have developed a recently improved module to capture this condition.
PWP as we call it offers exposure to written components comprising e-mail communications, report and proposal writing, instant messaging and social media writing as the newest addition to its impactful module. Besides that, the commonalities in writing cannot be neglected either in the aim of producing an effective piece of writing, thus tones in writing, précis writing and structuring as well as punctuating correctly were also highlights of the module brought forward to the participants of PWP.
As the programme aims to create an engaging learning environment for the participants, practical sessions on e-mail, social media and report writing were infused during the class sessions. This was seen as beneficial for the participants when they showed massive interest and engagement in these practical sessions.
"With every attempt comes rewards" as the saying goes, the participants' writing productions were closely observed by our dedicated trainers and thus were rewarded with (1) The Best Social Media Posting and (2) The Best Situational Report Award on the last day of the programme.
Overall, 23 government officers from various ministries such as the Prime Minister's Office, Ministry of Human Resource, Ministry of Science, Technology and Innovation, Ministry of Agriculture and Food Security, Ministry of Higher Education, and Malaysian Anti-Corruption Commission among others, were awarded the Certificate of Attendance. The programme was successfully conducted by the trusted team of ELT Trainers and members of the centre as positive energy and constant smirks were seen in the participants' facial expressions prior to leaving the institute on their last day of the programme.