Masters Degree Students Study Visit to Eastern Sabah Security Command (ESSCOM) Headquarters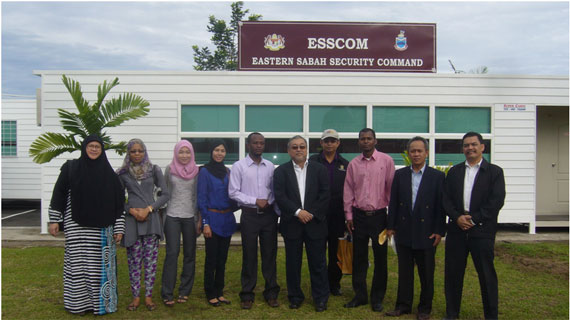 A delegation of Masters Degree Session 2012/13 students and IDFR officials had gone on a study visit to the Eastern Sabah Security Command (ESSCOM) headquarters in Lahat Datu, Sabah on 21 August 2013. The delegation which was headed by Dato' Zulkifli Yaacob, the Director of Corporate and Management Services IDFR and 12 participants had conducted the visit as part of the Masters Degree program which involves visits to related strategic locations or installations. The ESSCOM headquarters was set up immediately after the incursion of several Royal Sulu Forces (RSF) intruders into Lahat Datu in February 2013 which ended in a violent battle between the Malaysian Security Forces and RSF.
The delegation from IDFR was briefed by DCP Datuk Nadzer Ahmad Nordin, Director of Security Intelligence about the role of ESSCOM and the challenges faced by the organization to ensure the state's safety following the violent incidents in Lahad Datu. ESSCOM was tasked to safeguard and provide security to Sabah's extended east coast from future incursions. The existence of ESSCOM had also achieved one of its main goals that is to restore order and confidence and also revitalize the economy of Sabah. Apart from the visit to ESSCOM, the delegation was also given a tour of one of the volatile water-based villages that is Kampung Puyut to see for themselves the people and the livelihood of the villagers who are mostly illegal immigrants.
On August 22, 2013, the participants had the opportunity to experience the wonders of Kinabalu Park which is certified as one of UNESCO World Heritage Sites. This was an opportunity for the participants to appreciate the wonders of the thousands of species of flora and fauna. The participants also went to the Poring Hot Springs where participants can dip in hot sulfuric water for freshness. This reliable water can make the skin become radiant and heals the skin too. At Poring, the participants experienced the chance to walk on the canopy walkway at the height of 41 meters among the treetops where you can look out over the forest canopy flora of Borneo.
On 23 August 2013, the delegation departed for Kuala Lumpur and arrived safely in IDFR at 2.00 pm.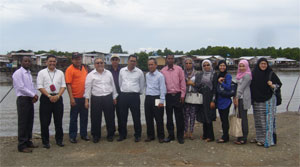 Reported by: Mrs Zuraida Zainol
Regional and Security Studies Division