Briefing to BAKTI Members On First Ladies Summit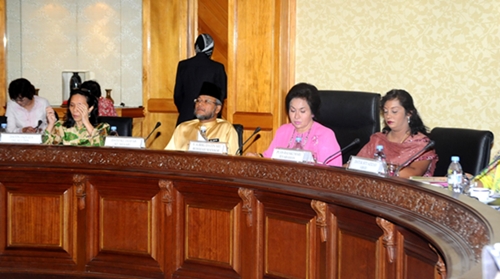 On 8 October 2010, Badan Amal dan Kebajikan Tenaga Isteri-isteri (BAKTI) held a briefing with respect to the hosting of the First Ladies Summit 2010 to its members at the Institute of Diplomacy and Foreign Relations (IDFR). Several senior officers from the Ministry of Foreign Affairs and the Prime Minister's Department were also invited to give presentations on related topics for the benefit of BAKTI's members.
The First Ladies Summit 2010 initiated by Datin Paduka Sri Rosmah Mansor was held in Kuala Lumpur from 11-13 October 2010. Themed 'A Child Today, a Leader Tomorrow', the summit focused on ways in which families, communities and governments can work together to uncover the potential in every child.
Since its initiation 33 years ago, BAKTI has been involved actively in many charitable activities to help the poor and the less fortunate. The members of BAKTI consists of the wife of the Prime Minister, the wife of the Deputy Prime Minister, wife of the Speaker and the Deputy Speaker of Parliament, wife of the Speaker and the Deputy Speaker of the Senate, and wives of the cabinet ministers and deputy ministers. Wives of former cabinet members become associate members, while past presidents become honorary members.
Other Latest Newsline
---