Dinner Talk: Capacity Building For International Trade Negotiations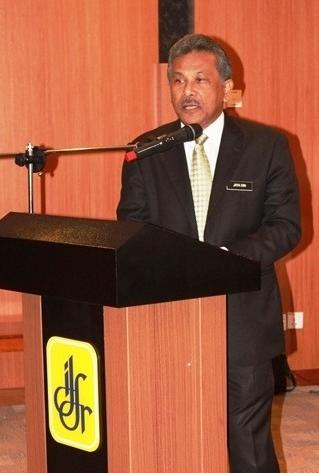 As the frontier of Malaysia's foreign policy, the Heads of Missions (HOM) who are currently undergoing a five-day orientation course in IDFR are being exposed to several essential issues which would require the vigilance and astuteness at the level of senior officials. As part of the orientation course, a Dinner Talk on Capacity Building for International Trade Negotiations was held on 25 July 2011 at the VIP Dining Hall of IDFR.
Mr. J. Jayasiri, the Senior Director of Multilateral Trade Policy and Negotiations Division from the Ministry of International Trade and Industry, was invited to share his knowledge. Mr. J. Jayasiri enlightened the audience on the changing scenario of the trade world where the establishment of World Trade Organisation (WTO) had raised an unpredictable and complex body for negotiation. The existence of WTO had caused the trading world to shift from mainly tariff agreement to trading in services sectors, intellectual property, agricultural, environment as well as e-commerce.
Mr. J. Jayasiri also discussed on the current scenarios of negotiations which ranges from WTO complexities, proliferations of FTAs, the inter-related, cross-cutting and sensitive issues as well as the emergence of BRICs and ASEAN. In order to understand the negotiation process of WTO which now comprises 153 players, he unfolded the main justification as to why WTO is very important to Malaysia that is, the dispute settlement mechanism and that WTO works on a consensus basis.
He also revealed Malaysia's experience from the regional and bilateral aspects. The signing of FTA with China in 2004 was the starting point for Malaysia in signing other FTAs and with the interlinking character of the trade world, also brought forth linkages to other agreements which benefited Malaysia.
The Dinner Talk which concluded at 10.30 p.m was very insightful and managed to elucidate the HOM on trade negotiations which hopefully would benefit Malaysia in the long run.