"The Malaysian Formula – Managing Economic And Political Transformation", Visits To The Department Of Foreign Affairs And Trade (DFAT) and Australian National University (ANU), Canberra, Australia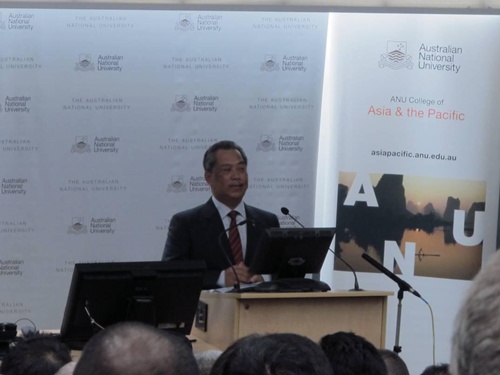 YBhg. Dato' Ku Jaafar Ku Shaari, Director General of the Institute of Diplomacy and Foreign Relations (IDFR) attended a Public Lecture entitled "The Malaysian Formula - Managing Economic and Political Transformation" delivered by YAB Tan Sri Dato' Haji Muhyiddin bin Mohd. Yassin, Deputy Prime Minister of Malaysia on 7th December 2011 at the Coombs Lecture Theatre, H.C. Coombs Building, Australian National University (ANU), Canberra. The Deputy Prime Minister delivered the lecture during his two (2)-day working visit to Canberra and Perth to mainly local and Malaysian students of ANU. In his lecture, YAB Tan Sri touched on the history and challenges that Malaysia faced and the current economic and political transformation. He later answered a few questions from the floor and joined the audience for morning tea during which he mingled and chatted with the audience before departing for Perth.
YBhg. Dato' Ku Jaafar, later that day, made a courtesy call on H.E. Dato' Salman Ahmad, the High Commissioner of Malaysia in Canberra before visiting the Department of Foreign Affairs and Trade (DFAT) of Australia. Mr. Chris Moraitis, First Assistant Secretary of Corporate Management Division of DFAT welcomed YBhg. Dato' and they both discussed about developing co-operation in the training of the young diplomats. Also present during the discussion were Ms. Karinda D'Aloisio, Director, Graduate Management and Administrative Trainees Section and Ms. Avigail Shai, Desk officer of Malaysia, Brunei and Singapore Section.
The Director General of IDFR also paid a courtesy call on Professor William Maley, The Chair and Director of the Asia-Pacific College of Diplomacy, Australian National University (ANU) on 8th December 2011. Professor William Maley, an experienced and renowned name in the area of Diplomacy, has served as a Visiting Professor at the Russian Diplomatic Academy, a Visiting Fellow at the Centre for Study of Public Policy at the University of Strathclyde and a Visiting Research Fellow in the Refugee Studies Programme at the Oxford University. He also taught many years in the School of Politics, University of New South Wales and Australian Defence Force Academy.
It was then followed by a discussion session with Prof. Maley and Ms. Andrea Haese, Executive Officer of the Asia-Pacific College of Diplomacy, ANU and Professor Ramesh Thakur also joined in later. Among the topics discussed was the cooperation between both institutions in developing and establishing smart-partnership in training. It was a very exciting and fruitful two (2)-hour discussion, whereby both sides shared their experiences and ideas in preparing young diplomats in meeting the demands of today's challenging world.
YBhg. Dato' Ku Jaafar later attended a warm and lovely dinner at Rumah Malaysia hosted by The High Commissioner of Malaysia that evening before departing for Kuala Lumpur the following day.