Forum: Is Nuclear Energy an Option for Malaysia?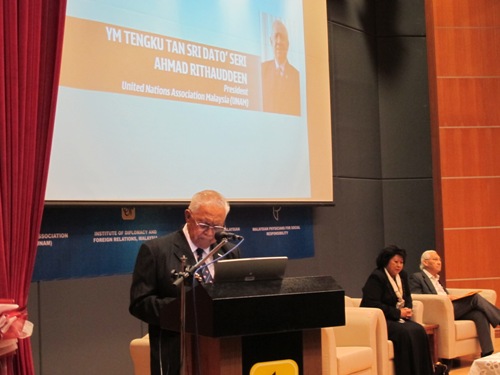 United Nations Association Malaysia (UNAM) in collaboration with the Institute of Diplomacy and Foreign Relations (IDFR), Association of Former Malaysian Ambassadors (AFMA) and Malaysian Physicians for Social Responsibility organised a one day forum entitled "Is Nuclear Energy an Option for Malaysia?" at IDFR on 16 February 2012. The Forum aimed at informing public on issues pertaining to the development of nuclear energy, in particular as an option for Malaysia.
The Forum commenced with the Welcoming Remarks by YM Tengku Tan Sri Dato' Seri Ahmad Rithauddeen Tengku Ismail, President of UNAM, followed by Session 1 which was moderated by YBhg. Datuk Khor Eng Hee, Former Chairman of the Board of Governors of the International Atomic Energy Agency (IAEA). The guest speakers for Session 1 were YBhg. Dato' Sri Che Khalib Mohamad Noh, President/CEO of Tenaga Nasional Berhad (Overview of Energy Resources in Malaysia); YBhg. Dr. Mohd Zamzam Jaafar, CEO, Malaysia Nuclear Power Corporation (MNPC) (Government Policy on Use of Nuclear Energy and Its Implications); Dr. Praful Bidwai, Leading researcher in social sciences, author, political analyst and journalist from India (The Bleak Future of the Global Nuclear Industry).
Session 2 of the Forum convened in the afternoon and was moderated by YBhg. Tan Sri Ahmad Fuzi Haji Abdul Razak, Secretary-General, World Islamic Economic Forum Foundation (WIEF). The guest speakers were Mr. Kamal Malhotra, UN Resident Coordinator/UNDP Resident Representative (The United Nations and Nuclear Energy); Associate Professor Mark Diesendorf, Institute of Environmental Studies, University of New South Wales (Technological Status and Economics of Nuclear and Renewable Sources of Electricity); Dr. Feroz Kabir Kazi, University of Nottingham Malaysia Campus (The Case for Renewal Energy – General Prospects, including Bio Energy).
The Forum concluded with a summation by YBhg. Dato' Dr. Ronald McCoy, President of the Malaysian Physicians for Social Responsibility and a Closing Remarks by YBhg. Tan Sri Razali Ismail, Deputy President of United Nations Association Malaysia and Former Permanent Representative of Malaysia to the United Nations.
Please click here for presentation slides.