Civil Servant Special Assembly with the Prime Minister of Malaysia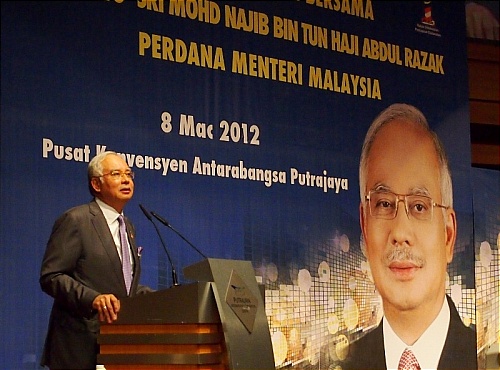 Two representatives from IDFR attended a special assembly for civil servants with YAB Dato' Sri Mohd Najib bin Tun Haji Abdul Razak, Prime Minister of Malaysia had been held at the Putrajaya International Convention Centre (PICC) on 8 March 2012.
The two-hour assembly started with opening remarks by YBhg. Dato' Haji Omar Haji Othman, President of CUEPACS and followed by special address by the Prime Minister.
Highlights of the event were a special announcement made by the Prime Minister, including the cancellation of the Saraan Baru Perkhidmatan Awam (SBPA) scheme and the adoption of the current Malaysian Remuneration System (SSM) that will be improvised, salary adjustments according to grades, improvement of the existing Matrix Salary (JGM) schedule to reflect minimum-maximum salaries, the increase of Cost of Living Allowance (COLA) and others.
The Prime Minister ended his address by expressing his hope that all Civil Servants will continue to create more achievements to ensure a better future for all Malaysians.