The Launch of Malaysian Diplomats: Our Stories Vol. 1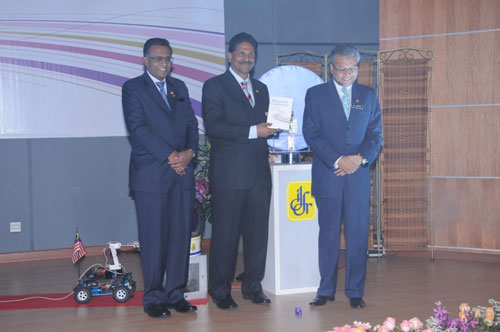 The Malaysian Diplomats: Our Stories Vol. 1 book project was initiated a few years ago, but due to unforeseen circumstances, the project was put on the back burner. Today, 3 May 2012, it was finally launched!
The book, a compilation of ten articles contributed by former and current serving ambassadors, is the first in the series of what IDFR hopes to be a yearly endeavour. As our country's representatives at post, our diplomats face many challenges and for some, even life-threatening events, and these first-hand experiences need to be shared, so that the nation will understand what our diplomats go through and the sacrifices that they sometimes have to make when serving King and Country. It will also serve as a guide for our young diplomats.
The launch was officiated by Senator A. Kohilan Pillay, the Deputy Foreign Minister, witnessed by, among others, more than 30 members of the diplomatic corps, some of the contributors, officers from the Ministry of Foreign Affairs and representatives from think tanks.
Copies of Malaysian Diplomats: Our Stories Vol. 1 are available for sale at IDFR at RM35 each. For further information, kindly call 03-2149 1043/1044.