Talk on Social Etiquette and Social Behaviour by YAM Tunku Dara Tan Sri Dato' Seri Naquiah binti Almarhum Tuanku Ja'afar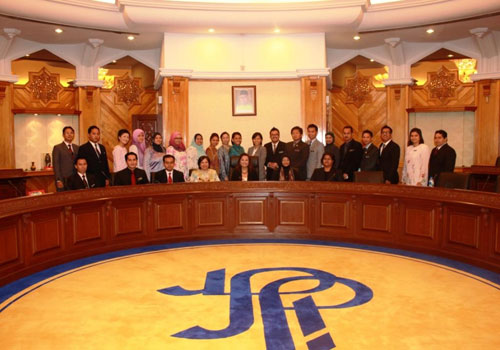 On 10 May 2012, Institute of Diplomacy and Foreign Relations (IDFR) was honored to receive YAM Tunku Dara Tan Sri Dato' Seri Naquiah's visit to IDFR. A total of 24 participants Diploma in Diplomacy 2012 (DiD 2012) that came from various government ministries/ agencies namely the Ministry of Foreign Affairs, Ministry of International Trade and Industries, Ministry of Plantation Industries and Commodities, Ministry of Education, National Institute of Public Administration (INTAN), Ministry of Defense, MARTRADE, and Ministry of Health had the opportunity to learn on social etiquette and social behavior in YAM Tunku's talk entitled 'Image and the Professional Diplomat'.
The participants of DiD 2012, among others were exposed to the Do's and Don'ts in the Social Etiquette and Social Behavior, Social Conversation, Art of Small Talk, Personal Grooming and Dress Sense which are relevant in daily work as a diplomat. Other than learning the theory part of the course, YAM Tunku had encouraged active participation from the participants and used a role-play approach in which, had made the two sessions of two hours respectively became interesting.
The Session was aimed to equip the participants with the necessary knowledge and skills on social etiquette and social behavior which are crucial in shaping a well-rounded diplomat and to facilitate the participants in completing the tasks and responsibilities given especially in international arena.

At the end of the session, the participants expressed their appreciation towards YAM Tunku's willingness in sharing her extensive experiences, thoughts and wisdom in the protocol field. The session was described as beneficial as it managed to provide a better understanding and served as a basic principle on social etiquette and social behavior to the participants.