The ASEAN Anniversary Forum 2012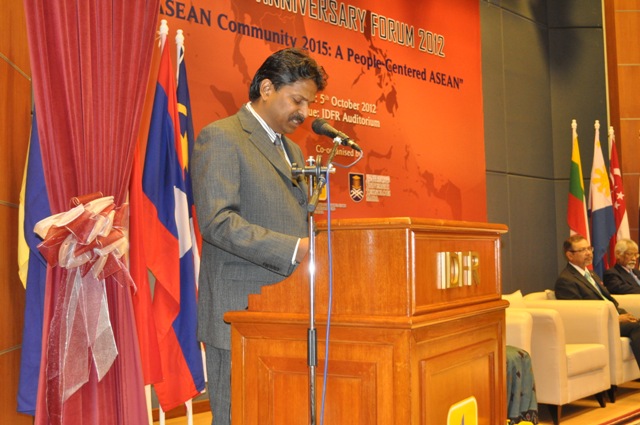 The ASEAN Anniversary Forum 2012
The ASEAN Anniversary Forum 2012 was held this morning, 5 October, at IDFR. Jointly organised by IDFR, the ASEAN-Malaysia National Secretariat and Universiti Teknologi MARA (UiTM), the forum was attended by officials from the Ministry of Foreign Affairs and other government agencies, members of the diplomatic corps, former Malaysian ambassadors, representatives from think tanks, government linked companies and non-governmental organizations, members of youth groups and students from several public and private universities. The forum is one of the annual events held to commemorate the ASEAN Anniversary, which is in its 45th installation this year.
After a brief welcoming remarks by Tan Sri Mohd. Radzi Abdul Rahman, the Ministry of Foreign Affairs Secretary General, he invited Senator A. Kohilan Pillay, the Deputy Foreign Minister to deliver an address on behalf of the Foreign Minister. Senator A. Kohilan Pillay spoke on ASEAN Community 2015: A People-Centred ASEAN. During the address, he emphasised that the ASEAN people are the region's best asset and we must ensure that they are fully involved in the region-building effort. He also recommended that ASEAN move beyond the vision of a "People-Oriented ASEAN" to a bolder "People-Centred ASEAN", which will be one of the key planks of Malaysia's Chairmanship in 2015.
After a brief refreshment break, a panel discussion on ASEAN Community 2015: A People-Centred ASEAN was held. Moderated by Prof. Ruhanas Harun from Universiti Pertahanan Malaysia, the discussion saw the participation of four distinguished panel members. They were YAM Tunku Zain Al-'Abidin ibni Tuanku Muhriz, Founding President of the Institute for Democracy and Economic Affairs (IDEAS); Ambassador Dato' M. Redzuan Kushairi, Deputy Chairman of Foreign Policy Study Group (FPSG); Prof. Dr. K.S. Nathan, Director, Institute of Malaysian and International Studies Universiti Kebangsaan Malaysia; and Mr. Bunn Nagara, Associate Editor of The Star Publication. It was a very informative, enlightening, eye-opening and thought-provoking discussion, followed by a brief question and answer session.
The forum ended with a closing remarks by Prof. Dato' Dr. Abdullah Mohamad Said, Acting Vice Chancellor of Universiti Teknologi MARA, who spoke on behalf of the Vice Chancellor.