A study visit to USS George Washington CVN-73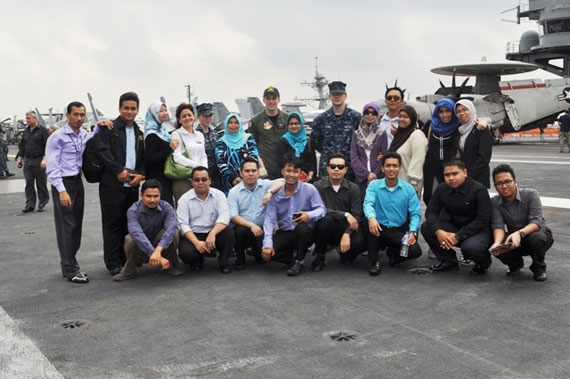 Twenty-five (25) members of the staff of the Institute of Diplomacy and Foreign Relations (IDFR) were privileged to be invited by the Embassy of the United States of America in Kuala Lumpur for a study visit to the United States' Carrier Strike named USS George Washington CVN-73. With a speed limit of more than 30 knots, this nuclear-powered aircraft carrier can carry 75 aircraft with 97,000 tons combat load displacement during each sailing trip.
It was a once-in-a-lifetime opportunity for the staff especially for me, to embark on a walking tour and experience the majestic aura of the carrier which is currently making a four-day stop at Port Klang. Our group was warmly received by the U.S Navy crew and we were given a guided tour and included a briefing on the background of the ship, its functions and the Navy routines on deck.
The excitement continued as the staff were briefed on each of the mighty aircraft on deck and were astounded when we were told that some of the Navy crew started their service at the age of 19. We were pleasantly surprised when we were informed that we were on one of the greatest ships of the U.S. Navy which was shown in a box-office film, the 'Battleship'.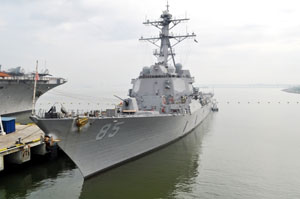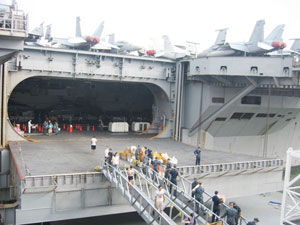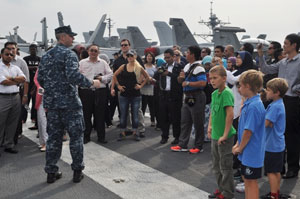 Reported by : Afifi Nordin
IDFR's Intern
Majoring in International Affairs Management
Universiti Utara Malaysia