Foreign Investment Protection and Domestic Policy Goals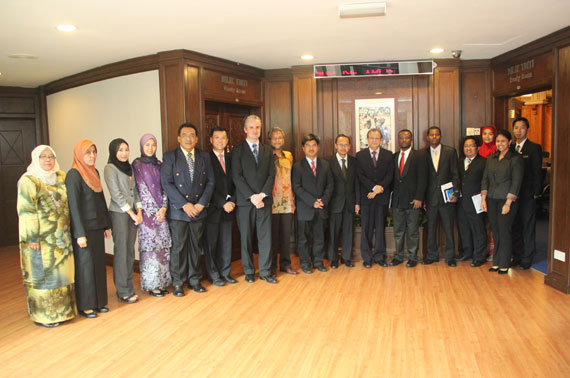 Institute of Diplomacy and Foreign Relations (IDFR) in collaboration with the World Trade Institute (WTI) had organised the Foreign Investment Protection and Domestic Policy Goals Seminar on 18 October 2012. The Seminar was attended by officers from Wisma Putra as well as Malaysian economic bodies, among others, Malaysian Investment Development Authority (MIDA), Central Bank of Malaysia as well as lecturers from the International Islamic University Malaysia and consultants.
The one-day seminar was an intensive session helmed by two experienced economic specialists - Associate Professor Dr. Julien Chaisse, Professor of Law at the Faculty of Law, Chinese University Hong Kong and Dr. Sufian Jusoh, External Consultant, World Trade Institute, University of Bern, Switzerland. Five topics were discussed: "The Interaction between Foreign Investment Protection and other Domestic Policy Goals", "Domestic Policy Goals vs. Investment Promotion: Examples from ASEAN", "Liability of the States and the Impact on Regulatory Regimes and Policy Goals", "The Tension in the Economics of Attracting FDI and Non-Economic Policy Goals: Some Techniques in the Investment Treaties" and "Whether the WTO Agreements have an impact on the Investment Treaty Provisions".
The seminar revolved around examples of investment treaties and agreement signed by countries in the region with foreign investors such as Bilateral Investment Treaties (BIT), Regional Trade Agreement and Foreign Trade Agreements (FTA) which will dictate the course and result of every investment. Mechanisms and related issues such as protection policy, fair and equitable treatment (FET), interference, legal aspects and other issues were also being discussed. Components of ASEAN Economic Community (AEC) was also highlighted, which hopefully would materialise by 2015 when Malaysia takes over the Chairmanship of ASEAN. It was also mentioned that Intra-ASEAN investments are being encouraged to create ASEAN as a more competitive region in terms of economic development. Stakeholders are also increasingly aware of the need for rules on corporate governance and responsibilities as well as home country measures and investment promotion which could attract foreign direct investment which is the primary investment aim of every country.
The Seminar which was the first installment of the Economic Diplomacy Series concluded with the promise of future series to come ranging from carbon issues, geographical indication, ASEAN Investment Agreement as well as AEC.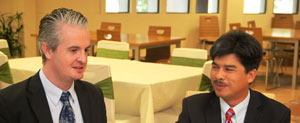 Reported by : Khairul Bariah Che Amat
Academic Studies, Research and Publication Division