International Conference on '9/11 Revisited – Seeking the Truth'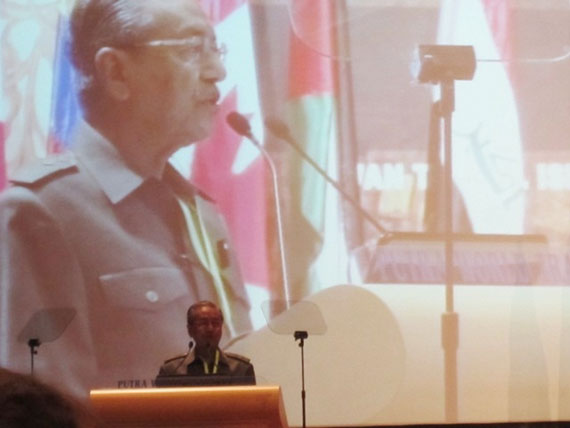 An International Conference on '9/11 Revisited – Seeking the Truth' was organised on 19 November 2012 in Kuala Lumpur by the Perdana Global Peace Foundation (PGPF). YBhg. Dato' Ku Jaafar Ku Shaari, Director General, Institute of Diplomacy and Foreign Relations (IDFR) and YBhg. Ambassador Aminahtun Hj. A. Karim, Deputy Director General and senior officers were among those that attended; including the diplomatic corps, the media, academicians, NGO personalities and university students.
The opening session began with a keynote address by YABhg. Tun Dr. Mahathir Mohamad, President of PGPF and fourth Prime Minister of Malaysia (16 July 1981 - 31 October 2003). Four consecutive sessions deliberated on the following aspects: Session 1: What Really Happened on 9/11? This session was moderated by YBhg. General (Rtd) Tan Sri Mohd Azumi Mohamed, Trustee PGPF and the speakers were Ms. Cynthia McKinney, former US Congresswoman/Commissioner in the Citizens' Commission on 9/11; Mr. James Corbett, journalist and film producer and Mr. Richard Gage, founder of Architects & Engineers for 9/11 Truth.
Session II: Fear Syndrome was moderated by YBhg. Tan Sri Hasmy Agam, Chairman of SUHAKAM and the speakers were Prof. Michel Chossudovsky, Professor of Economics, University of Ottawa; Prof. Graeme MacQueen, Author and Organiser of the Toronto 9/11 Hearings and Prof. Niloufer Bhagwat, Professor Comparative Constitutional Law at University of Mumbai, India.
Session III: Post 9/11 – Global Consequences was moderated by YBhg. Datuk Dr. Mohd Ghazali Hj. Md Noor, Senior Adjunct, Tindakan Strategi Sdn Bhd and the speakers were: Prof. Dr. Hans Koechler, University of Brunswick Austria; Mr. Giulietto Chiesa, former Member of EU Parliament/Italian politician and Dr. Chandra Muzaffar, President of JUST (International Movement for a Just World).
Session IV: 9/11 and War Crimes – A Panel Discussion and Recommendation was moderated by Prof. Gurdial Singh Nijar, Faculty of Law, University of Malaya, Malaysia and the above nine speakers presented their views and recommendations.
The closing session was delivered by YBhg. Tan Sri Norian Mai, Chairman of PGPF and was followed with a press conference.
Majority of the speakers expressed their thoughts that the attacks on the two World Trade Centre towers and the collapse of WTC 7 were premeditated as the manner that the three buildings came down had the features of controlled demolition. Tun Dr. Mahathir Mohamad mentioned that the PGPF is dedicated in finding the truth behind what happened on 9/11. He also said that the alternative media has provided avenues for everyone to write convincingly to influence the citizens of the world to demand a new enquiry.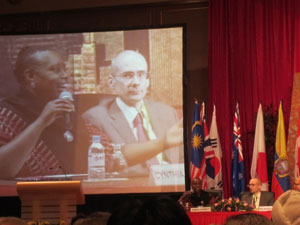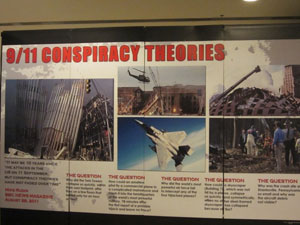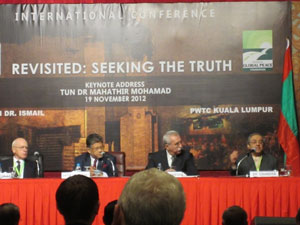 Reported by : Rahimah Yeop
Academic Studies, Research and Publication Division