Certificate Presentation Ceremony Diplomatic Training Course (DTC) for Myanmar Officers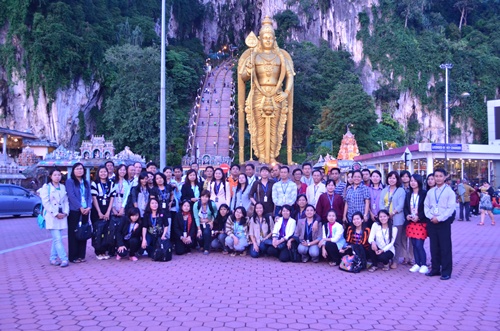 The Certificate Presentation Ceremony for the Diplomatic Training Course (DTC) for 50 Myanmar officers was held on Wednesday, 12 December 2012 in the Swiss Garden Hotel and Residences, Kuala Lumpur. It marked the end of the three-week course. The ceremony was graced by YBhg. Dato' Ku Jaafar Ku Shaari, Director-General of the Institute of Diplomacy and Foreign Relations (IDFR). Also present at the ceremony were H.E. U Tin Latt, Ambassador of the Republic of the Union of Myanmar, lecturers, IDFR officers and representatives from the ASEAN-Malaysia National Secretariat, CLMV Division as well as the Malaysian Technical Cooperation Programme (MTCP).
At the start of the ceremony, YBhg. Dato' Ku Jaafar Ku Shaari gave his closing remarks. It was followed by a vote of thanks by the class representative. It reflected the participants' appreciation towards Malaysia's willingness to share her vast experience, knowledge and skills with Myanmar in their preparation to assume the ASEAN Chairmanship in 2014 as well as to organise the ASEAN Summit and other ASEAN related meetings.
It was a joyous and colourful ceremony. Right after the certificate presentation, the guests were entertained by two traditional songs and dances. The participants wearing their national costume were in their element, hence the guests were enchanted listening to and watching their performances. The ceremony ended with the participants and guests dancing to the 'Poco-Poco' song. Overall, the participants enjoyed the course thoroughly and benefited from it and they wish to come back to Malaysia for more courses. IDFR hopes the participants have obtained the knowledge and skills to fully utilise it for the success of Myanmar's ASEAN Chairmanship in 2014. We wish Myanmar all the best !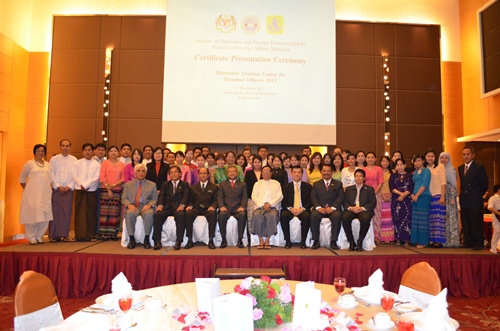 Reported by : Jarin Sijaya Abdul Hathi
Training Division