Public Lecture Entitled "Better Understanding Of The Current Arab Spring – A Change Or A Radical Change?" at IDFR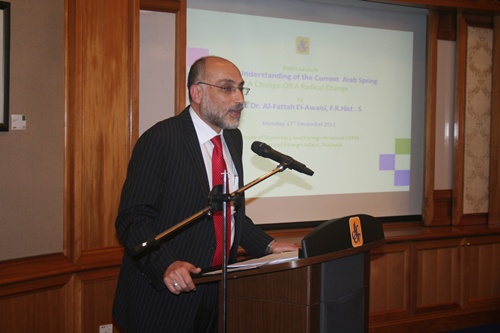 The Institute of Diplomacy and Foreign Relation hosted a public lecture entitled "Better Understanding of the Current Arab Spring – A Change or a Radical Change?" by Prof. Dr. Abd Al-Fattah El-Awaisi, Distinguished Visiting Professor at Universiti Utara Malaysia at the Treaty Room on 17 December 2012.
In his talk, the guest speaker, who has more than 25 years of teaching and research experience at Arab, British and Malaysian universities stated that political repression, corruption and the lack of personal freedom were among the main reasons for the 'Arab Spring' that spread through the countries of North Africa and the Middle East, leading to the downfall of dictational regimes in Tunisia, Libya, Egypt and Yemen.
He added that what was taking place is a 'radical change' which would have major implications for the region and the world. However, he added that it may take between 5-10 years before the political situation stabilises in the region. When this takes place, he opined that there would be a more united Middle East and that the region would become one of the major powers on the world stage.
Among the changes he said may take place is for democracy to become more deeply rooted in these countries, and for the US to move political closer towards the Arab countries vis-à-vis Israel on the Palestinian issue.
The public lecture was attended by 40 participants from government agencies, universities, NGOs and the private sector.
Reported by : Nafizal Haris Ismail
Regional and Security Studies Division