Celebration of the International Day for the Elimination of Violence against Women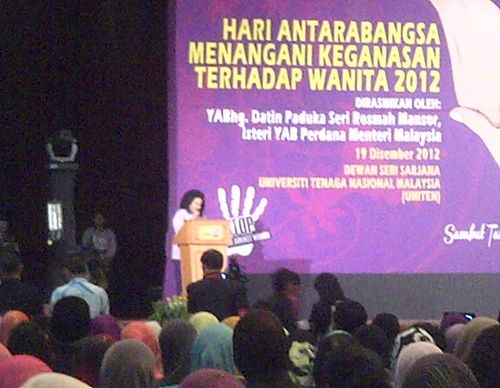 The national level celebration of the International Day for the Elimination of Violence against Women was held on Wednesday, 19 December 2012 at Universiti Tenaga Nasional Malaysia. It was organised by the Ministry of Women, Family and Community Development.
Officiated by Datin Paduka Seri Rosmah Mansor, wife of the Prime Minister, the celebration with the theme 'Sambut Tangan Ku' was held to raise public awareness of violence against women that is, based on statistics, prevalent not only in Malaysia but worldwide.
In her speech, Datin Paduka Seri Rosmah Mansor stressed to the audience, which comprised of, among others, staff of various ministries, government agencies and non-government organisations, university students, members of youth groups, of our responsibility to unite against violence. She also urged the audience to reach out for help if they or someone they know, have been victims of violence, be it physically, emotionally, sexually or financially. Datin Paduka Seri also quoted United Nations' Secretary-General Ban Ki-moon who called for an end to violence against women and girls.
The event ended with a touching video which highlighted our ability to act and help our sisters, mothers, aunties, grandmothers, friends, neighbours and other females from being victims of violence.
IDFR was represented by Puan Noraini Awang Nong, its officer from the Academic Studies, Research and Publication Division, on behalf of the Director General.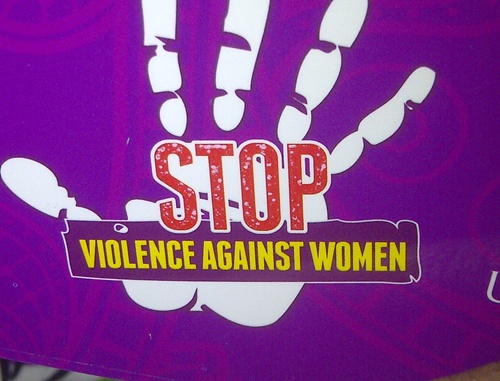 Reported by : Noraini Awang Nong
Academic Studies, Research and Publication Division