Visit By Professor Bae Geung-Chan, The Director Of The Institute Of Foreign Affairs And National Security (IFANS) Republic Of Korea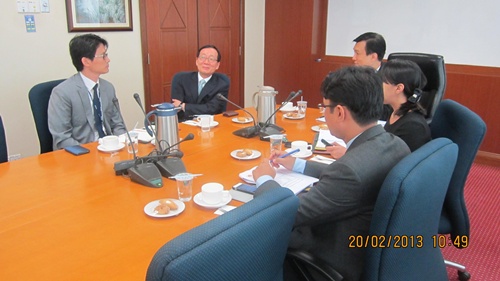 Professor Bae Geung-Chan, the Director of the Institute of Foreign Affairs and National Security (IFANS), Republic of Korea made a visit to IDFR on 20 February 2013. The Director was accompanied by the Mr Chong-Sul, the Second Secretary from the Republic of Korea (ROK) embassy in Kuala Lumpur.
Professor Bae Geung-Chan made a courtesy call on the Director General's office and discussed about the role and function of IDFR with YBhg. Dato' Ku Jaafar Ku Shaari, the Director General of IDFR and YBhg. Ambassador Aminahtun Haji A Karim, the Deputy Director General. After that, Professor Bae Geung-Chan was given a briefing by Mr Lim Juay Jin, the Director of Training and Miss Romaiza Abdul Rahman, the Senior Deputy Director of Training on training conducted at IDFR. Professor Bae Geung-Chan was very impressed with the variety and level of training especially on the areas of diplomacy and international relations. During the briefing, Professor Bae expressed his interest to have similar training to be conducted at IFANS. Professor Bae said he would share his knowledge and the information gained during the briefing with his officers at IFANS.
Reported by : Mohd Ridzuan Mohd Shariff
Regional and Security Studies Division