IDFR Distinguished Fellows Meeting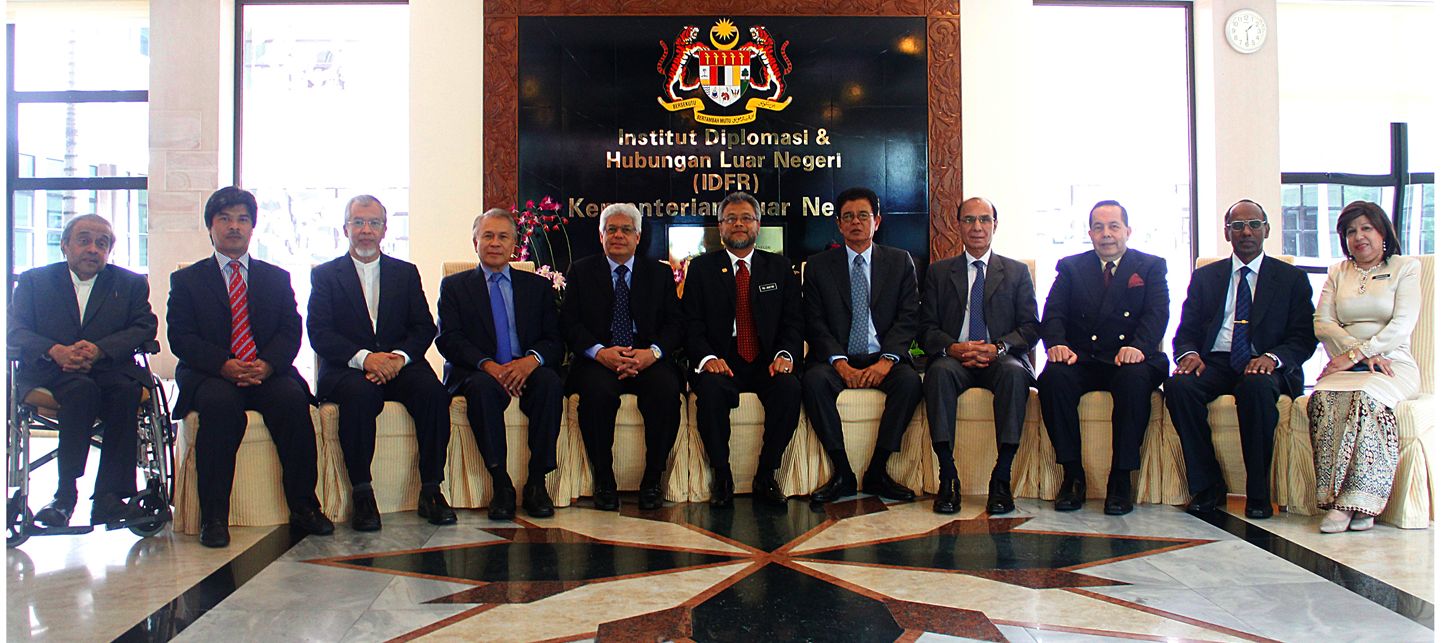 IDFR had the honour to host a meeting and luncheon event for the institute's Distinguished Fellows on 27 February 2013. Nine out of thirteen Distinguished Fellows attended the memorable event.
YBhg. Dato' Ku Jaafar Ku Shaari, the Director General of IDFR in his welcoming remarks expressed his gratitude to the Distinguished Fellows for being able to attend the event. Its purpose of the event was among others to allow the Distinguished Fellows to get to know the institute's officers and management, to brief the Distinguished Fellows about IDFR's training and research programmes and also the institute's future plans.
A short briefing was given about the background and the achievements of the Institute followed by a discussion. YBhg. Dato' Ku Jaafar touched on the future direction of the Institute and welcomed the significant role and contribution of ideas from them especially in manifesting IDFR to be a prestigious institute of diplomacy and international relations of a global standard.
The Distinguished Fellows shared their views and opinion. The institute's officers took this opportunity to get to know more about the Distinguished Fellows.
The nine (9) Distinguished Fellows who attended the luncheon were:
1. YBhg. Tan Sri Razali Ismail, Chairman of Global Movement of the Moderates Foundation (GMMF);
2. YBhg. Tan Sri Mohamed Jawhar Hassan, Chairman of the Institute of Strategic and International Studies (ISIS);
3. YBhg. Tan Sri Ahmad Fuzi Haji Abdul Razak, Secretary General of the World Islamic Economic Forum (WIEF) Foundation;
4. YBhg. Tan Sri Hasmy Agam, Chairman the Human Rights Commission of Malaysia (SUHAKAM);
5. YBhg. Professor Dr. Chandra Muzaffar, President of International Movement for a JUST World, Malaysia (JUST);
6. YBhg. Professor Dr. K.S. Nathan, Director of the Institute of Malaysia and International Studies (IKMAS), National University of Malaysia;
7. YBhg. Professor Dato' Dr. Zakaria Ahmad, Deputy Vice Chancellor (Research) HELP University; and two newly appointed Distinguished Fellows,
8. YBhg. Tan Sri Professor Dr. Mohd. Kamal Hassan, Distinguished Professor, International Institute of Islamic Thought and Civilization (ISTAC), International Islamic University of Malaysia (IIUM) and
9. YBhg. Dr. Sufian Jusoh, External Consultant of the World Trade Institute (WTI), Bern, Switzerland.
The other Distinguished Fellows are:
1. Admiral (R) Tan Sri Mohd Anwar Hj. Mohd Nor, Chairman and Board of Directors , National Defense University of Malaya;
2. Emeritius Prof. Datuk Osman Bakar, Chair/Professor, Sultan Omar 'Ali Saifuddien Centre for Islamic Studies (SOASCIS) University Brunei Darussalam;
3. Prof Dr. Zafar U. Ahmed, Professor of Marketing and International Business , School of Business Lebanese American University ,Beirut, Lebanon; and
4. Dr. Farish A. Noor, Associate Proffesor, S. Rajaratnam School of International Studies, Nanyang Technological University, Republic of Singapore.
Reported by : Nafizal Haris Ismail
Regional and Security Studies Division
For more photos, please click here.