The International Relations Module For The Participants Of Diploma In Public Administration (DPA) 2/2012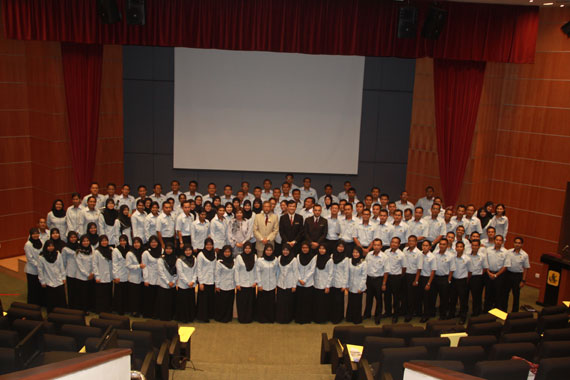 The Institute of Diplomacy and Foreign Relations (IDFR) and the National Institute of Public Administration (INTAN) jointly organized the International Relations (IR) Module for the Diploma in Public Management (DPA) 2/2012. Participants attending the module were divided into two large groups, one from INTAN Eastern Regional Campus (INTIM) and another from INTAN Southern Regional Campus (IKWAS).
The objective of the module is to instil knowledge and understanding of the concept of diplomacy and international relations and to provide an overview of the roles and functions of Malaysian Diplomats. The IR module for the participants from INTIM was organized at the Eastern Regional Campus in Kemaman, Terengganu while the similar module for participants from IKWAS was organized in Kuala Lumpur.
Among the lectures that were included in the IR module were topics concerning Malaysia's Foreign Policy, Vienna Convention and Consular Relations, ASEAN Regional Cooperation, Public Diplomacy and Media Relations, International Negotiations, Malaysia's Position on Counter Terrorism as well as Language and Diplomacy.
In addition to this the participants from IKWAS had the privilege to listen to YBhg. Dato' Ku Jaafar Ku Shaari, Director General of IDFR during his session on the topic of "Experience of a Diplomat". The participants from IKWAS also had the opportunity to meet Captain John Segura, Senior Defense Official/Defense and Naval Attaché, and Mr. Paul Brown, Economic Counselor from the Embassy of the United States of America who were invited to share their views concerning Diplomats in the 21st Century.
Reported by : Nadhirah Mohamad Zanudin
Office of Director General