Bank Negara Malaysia Governor's Address on the Malaysian Economy and Panel Discussion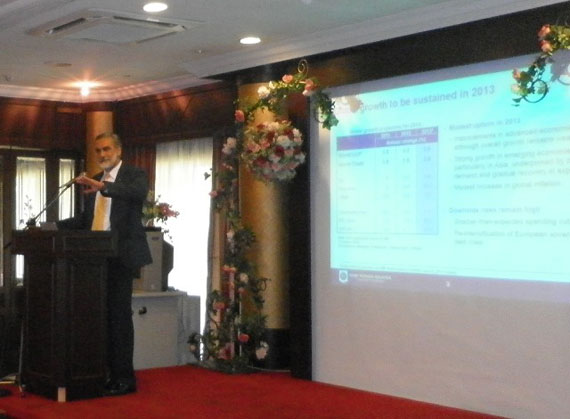 Dr. Sukhdave Singh, the Assistant Governor of Bank Negara Malaysia delivered the Governor's Address at a seminar held at Bukit Kiara Equestrian and Country Resort on Thursday, 21 March 2013. He was recently appointed by the central bank as Deputy Governor effective 16 April 2013.
In his address, Dr. Sukhdave spoke on the Outlook for the Malaysian Economy and the Financial Sector. He said that the Malaysian economy is expected to remain on a steady growth trajectory of five to six per cent in 2013 and will continue to be driven by private sector activity. According to Dr. Sukhdave also, private investments are expected to remain robust and the labour market conditions are also expected to remain favourable. In terms of external trade, Dr. Sukhdave said that export growth will be higher amid continued expansion in imports. Robust regulatory and supervisory framework will continue to support financial stability. Dr. Sukhdave summed up the address by saying that positive outlook for domestic financial stability will be maintained in 2013.
The Governor's Address was followed by a panel discussion chaired by Tan Sri Dato' Mohd. Sheriff Mohd Kassim, President of the Malaysian Economic Association. The panelists were Dr. Ravi Balakrishnan from the International Monetary Fund who gave a detailed explanation about Malaysia's Transformation: Progress and Challenges; Mr. Raymond Tang from CIMB Principal Asset Management who spoke on Capital Flows and Imbalances and Professor. Dr. Ahmad Zubaidi Baharumshah of Universiti Putra Malaysia who spoke at length on Debt and Uncertainties in the Malaysian Economy.
Prepared by : Noraini Awang Nong
Academic Studies, Research and Publication Division