The Diplomatic Training Course for Myanmar Officers in Nay Pwi Taw, Myanmar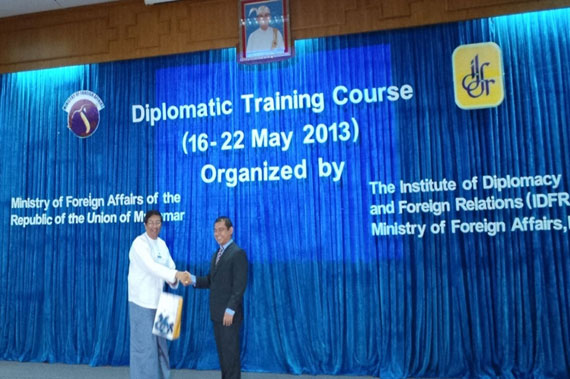 The Institute of Diplomacy and Foreign Relations (IDFR) successfully conducted the Diplomatic Training Course for Officers from the Republic of the Union of Myanmar from 16 – 22 May 2013 in Nay Pwi Taw. The course was conducted under the Malaysian Technical Cooperation Programme (MTCP) at the request of Government of Myanmar in conjunction with their preparation for ASEAN Chairmanship in 2014.
The opening ceremony, held at the Ministry of Foreign Affairs, Myanmar was officiated by the Malaysian Ambassador to Myanmar, His Excellency Dr. Ahmad Faisal Muhammad. Present at the ceremony was also Mr. Tha Aung Nyunt, Director General of the Consular and Legal Affairs Relations and Mr. Myint Thu, Director of the Political and Security Division from the ASEAN Department, Ministry of Foreign Affairs, Myanmar.
The objective of the course is to equip the participants with the necessary knowledge and to enhance their capabilities to take on the ASEAN Chairmanship in 2014 as well as to organize the ASEAN Summit and various ASEAN related Meetings. A total of 90 participants representing 28 different Ministries such as Foreign Affairs, Home Affairs, Commerce, Culture, Health, Information, Science and Technology and Boarder Affairs attended the course.
IDFR arranged several talks pertaining to the ASEAN Community 2015, ASEAN Summit and other Related Meetings an Inter-Agency Coordination. Other talks were based on the following modules: Protocol, Media Relations and Media Skills, Registration and Accreditation, Liaison Duties, Etiquette, Health, Finance and Budget, Accommodation, Security, Transportation Arrangements, Food Management, Gift and Souvenirs, Gala Dinner and Side Events Committee. Apart from that the participants were also requested to do several simulation exercises of a mock conference on the ASEAN Plenary and Retreat Sessions.
The Ministry of Foreign Affairs as well as the participants voiced their satisfaction with the programme and expressed their appreciation to IDFR for having arranged such a beneficial programme. They now felt, indeed, better prepared to face the responsibilities and challenges when the Government of Myanmar holds the ASEAN Chairmanship in 2014. The closing ceremony was conducted in an auspicious manner and certificates were presented by Mr. Mohd Zamruni Khalid, Deputy Director General, ASEAN-Malaysia National Secretariat, Madam Daw Aye Aye Mu, Deputy Director General from the ASEAN Department and Mr. Tha Aung Nyunt, Director General of the Consular and Legal Affairs Relations Ministry of Foreign Affairs, Myanmar.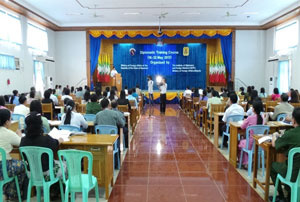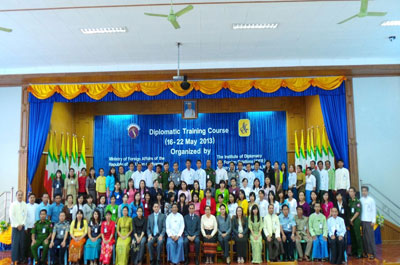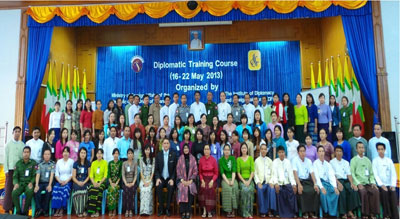 Reported by: Mohd Farid Mohd Arif
Training Division