The 10th ASEAN Leadership Forum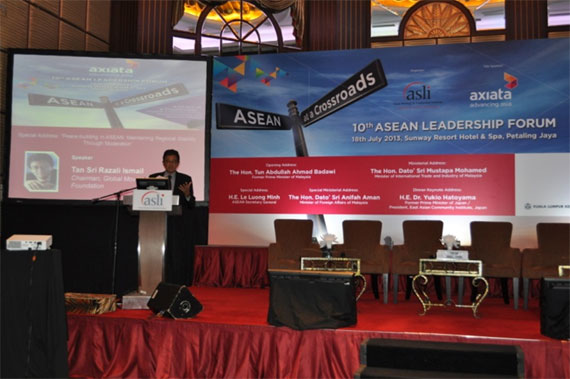 On 18 July 2013, the Asian Strategy & Leadership Institute (ASLI) coorganised with the Global Movement of Moderates Foundation (GMMF) and other sponsors – Kuala Lumpur Kepong Berhad, Strait of Malacca Partners, Invest Hong Kong and Macquarie hosted the 10th ASEAN Leadership Forum at Sunway Resort Hotel Spa, Bandar Sunway, with the theme ASEAN at a Crossroads – Towards a Common Future, Shared Prosperity and Regional Stability.
The objective of this forum was to stimulate interactive interchange of views between Government, Business and Civil Society leaders on the future of ASEAN and what ASEAN's future challenges are. The forum commenced with a welcoming speech by Tan Sri Michael Yeoh, Chairman of ASEAN Leadership Forum and Chief Executive Officer, ASLI. He said that in order for ASEAN to be a leader, we have to make sure we achieve the ASEAN community challenge of generating the opportunity and security by the end of this year. The introductory speech was given by Dato' Sri Jamaludin Ibrahim, President and Group Chief Executive Officer of Axiata Group Berhad, which is the joint organiser.
The opening ceremony was officiated by Tun Abdullah Ahmad Badawi, former Prime Minister of Malaysia and the special address about Moving ASEAN Forward, Straightening Community Building was delivered by H.E Mr. Le Loung Minh, ASEAN Secretary General. He mentioned that ASEAN should promote South Asia as a free zone from nuclear and to maintain the ASEAN community. ASEAN needs to demonstrate cohesiveness and coordination.
The forum's first session was moderated by Mr. Mohd Ridzal Sheriff, Deputy Secretary General of Ministry of International Trade and Industry (MITI). The speakers for the first session title Pushing Forward ASEAN Integration, Strengthening Community Building were H.E. Mr. Lee Yi-Shyan, Senior Minister of State for Trade and Industry of Singapore, H.E. Mr. Siaosavath Savengsuksa, Vice Minister, Ministry of Industry and Commerce of Lao PDR, Ambassador Chung Hae Moon, Secretary General of ASEAN-Korea Centre. Prof. Hidetoshi Nishimura, Executive Director of Economic Research Institute for ASEAN and East Asia (ERIA) and Mr. Rajiv Biswas, Asia Pacific Chief Economist and Senior Director of HIS Global Insight, Singapore.
The session covered on how to build and strengthen integration in ASEAN community. According to H.E. Mr. Siaosavath Savengsuksa, in realising the ASEAN Economic Community in 2015, there are key priority areas that individual ASEAN member State, as well as ASEAN as a whole, should concentrate from now to achieve the ASEAN Economic Community and to ensure the wellbeing and resilience of the ASEAN community. Prof. Hidetoshi Nishimura added that there are four interdependent pathways to ASEAN moving up economically and stepping up internationally they are competitive and dynamic pathway, inclusive pathway, sustainable pathway and dynamic equilibrium pathway with ASEAN centrality.
The second session titled, "Towards a People Centric Asean" discussed the issue on how to enhance the Social Cultural Community and making Asean more relevant to the younger generation. This session was moderated by Mr.Khalek Awang, Chief Executive Officer of Global Movement of Moderates Foundation, Malaysia. The speakers were Dr.Farish Noor, Senior Fellow at the S. Rajaratnam School of International Studies (RSIS), Ms. Rahimah Abdulrahim, Executive Director of The Habibie Center, Jakarta, Indonesia, Datuk Dr.Denison Jayasooria, Principal Research Fellow at the Institute of Ethnic Studies (KITA), University Kebangsaan Malaysia (UKM), Ms. Moe Thuzar, ISEAS Fellow and lead researcher for sosio-cultural affairs at Asean Studies Centre (ASC) at ISEAS.
The panel purported that the importance of Asean is given low priority and there is a wide gap of understanding and awareness of Asean among the people. According to Dr.Farish Noor, the people in Asean countries do not even recognise the logo of Asean and they are more interested in K-Pop. He added that, Asean countries need to find a way to change this situation which will shape the destinies of millions of Southeast Asians in the generations to come.The panel agreed that we need to promote Asean in order to make Asean more relevant and also to create the awareness on Asean among the younger generation.
The last session in the forum was the China Daily workshop which focused on China and Asean business and economic partnership.
The Institute of Diplomacy and Foreign Relations (IDFR) attended this Asean Leadership Forum- represented by Dato' Ku Jaafar Ku Shaari, Director General of IDFR, Mrs.Rahimah Yeop Director of Academic Studies, Research & Publication Division, Mejor Mohd Ridzuan Haji Mohd Shariff Senior Deputy Director of Regional and Security Studies Division, Ms.Aida Hanim Suid @ Shoib and Ms.Logini Sreedharan, both from Academic Studies, Research and & Publication Division.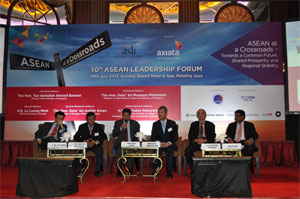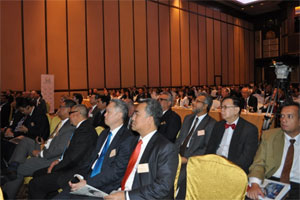 Reported by:
Logini Sreedharan (Intern)
Universiti Utara Malaysia (UUM) and
Aida Hanim Suid @ Shoib
Academic Studies, Research and & Publication Division.