A Friday Morning Session titled, "Briefing on Chevening Scholarships"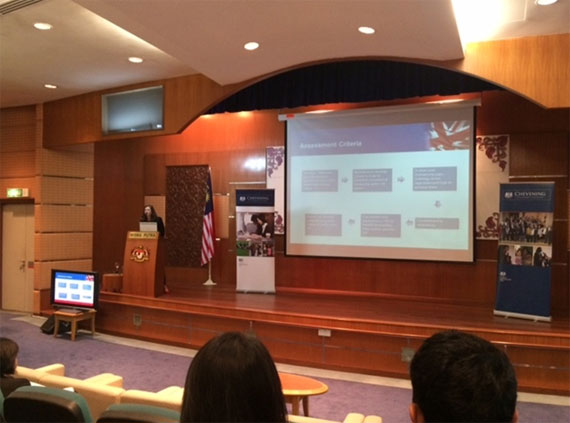 A Friday Morning Session titled, "Briefing on Chevening Scholarships" was held on October 24, 2014 at Wisma Putra, Ministry of Foreign Affairs, Malaysia. The briefing was delivered by Ms. Jade Robinson, British High Commission's Scholarship Officer.
This session was held to inform of the existence of the Chevening Scholarship in Malaysia and what it provides its recipients. The objectives of this particular programme are to support foreign policy objectives, to make good relationships with future leaders in their chosen disciplines, to get a positive all-round experience in the United Kingdom by looking upon the given scholarship in a positive light - experiencing the academia and cultural aspects that United Kingdom has to offer and to also build a global Chevening alumni network. The scholarship consists of tuition fees, a modest living allowance, economy class return air fare to Malaysia, gratis visa and additional gratis to cover essential expenditure. This particular programme is also in line with the saying, "you're never too old to learn"; hence recipients of this scholarship vary. The programme provides full or part funding for full-time courses at postgraduate level, normally a one-year Master's degree, in any subject and at any UK university. To name a few, the priority areas of studies are Human Rights, Foreign and Security Policy, Climate Change and Sustainable Development, Trade/Business/Islamic Finance and Science/Engineering and Cyber Security. For further inquiries about the programme, please visit their official website at www.chevening.org.
This session was attended by officers from various divisions in Wisma Putra, Southeast Asia Regional Centre for Counter-Terrorism (SEARCCT) as well as from the Institute of Diplomacy and Foreign Relations (IDFR) respectively Mrs. Farah Dibah Abu Hanipah and Ms. Farhana Mohamed Nor.
Reported by:
Farhana Mohamed Nor
Regional and Security Studies Division