IDFR-UKM Masters Degree Program Session 2013/2014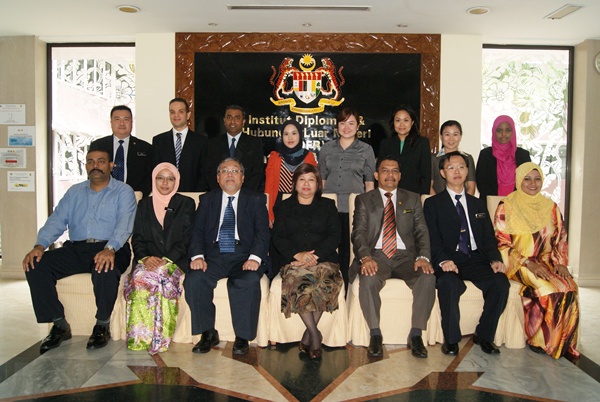 IDFR welcomed 10 new students to participate in the Masters of Social Sciences (Strategy and Diplomacy) during the opening ceremony for the programme on 3 September 2013. The opening ceremony was officiated by H.E. Ambassador Aminahtun Haji A. Karim, Acting Director General of IDFR with the presence of YBhg. Dato' Zulkifli Yaacob, Major Mohd Ridzuan Hj. Mohd Shariff and several IDFR officers. The students, including two international students who came from various academic backgrounds, will be undergoing a one-year Masters programme which aims to enhance their knowledge and skills in the field of strategy and diplomacy.
H.E. Ambassador Aminahtun, in her remarks, mentioned that it is a privilege for the Masters students to pursue the programme in IDFR as the organisation, under the purview of the Ministry of Foreign Affairs Malaysia, is the premier institute in Malaysia that specially focuses in the field of diplomacy and foreign relations. She continued that IDFR was also privileged to have a pool of talented professionals whose knowledge and expertise would be of benefit not only for the programme but for the institute as a whole.
The IDFR-UKM Masters Degree of Social Sciences (Strategy and Diplomacy), which now runs in its 14th year, is a smart collaborative effort between IDFR and UKM that provides the expertise and professional sharing of knowledge that would enhance the students career in the future.