Majlis Amanat Ketua Setiausaha Negara 2014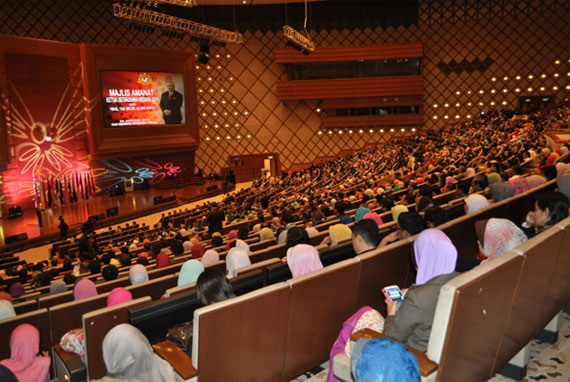 On 20 January 2014, the Chief Secretary to the Government of Malaysia, Tan Sri Dr. Ali Hamsa delivered his message to the civil servants at the Plenary Hall, Putrajaya International Convention Centre (PICC) regarding several initiatives, mainly the transformation programme and creating a people-oriented civil service.
In order for Malaysia to become a developed country by 2020, Tan Sri Dr. Ali Hamsa reminded the civil servants about the Transformation Programme. He stated that civil servants must prepare innovative and collaborative strategies in order to accelerate towards Malaysia's vision. Using the Public Service Department and Treasury as prime examples, he urged other agencies to start a transformation agenda – positive work culture, structured organisation – to achieve a high-performing and dynamic public service. He then informed that the Malaysian government has agreed for the Public Service Department to work closely with the United Nations Development Programme (UNDP) to conduct a study in ensuring that the civil service is able to implement the transformation programmes systematically, guided by mandates and objectives set for each ministry.
With regards to creating a people-oriented civil service, Tan Sri Dr. Ali Hamsa underlined six key principles:
1. Openness – to adopt an open mind in giving services to our clients
2. Turun Padang – to observe firsthand the needs and expectations of the people
3. Musyawarah – to enhance our engagement with customers by giving clear information
4. Insaniah – to balance the spiritual needs and well-being in the way we work
5. Belonging – appreciating our differences and strengthen our common interests
6. Collaboration with the Public, Private and NGO – means to work closely with them and always strive to achieve mutual consensus.
Reducing government spending, increase incentives for civil servants, create sustainable success through the blending of talents, strengthening good governance and integrity and the use of social media as a platform to reach out to the people were other measures that were pointed out.
All the ministries and government agencies sent their representatives to attend the event.
The Director General of the Institute of Diplomacy and Foreign Relations (IDFR) Dato' Hussin Nayan and 26 officers and staff attended the programme.
Reported By: Syahrul Nizzam Nordin
Academic Studies, Research and Publication Division