Diploma in Diplomacy (DiD) 2013 Graduation Ceremony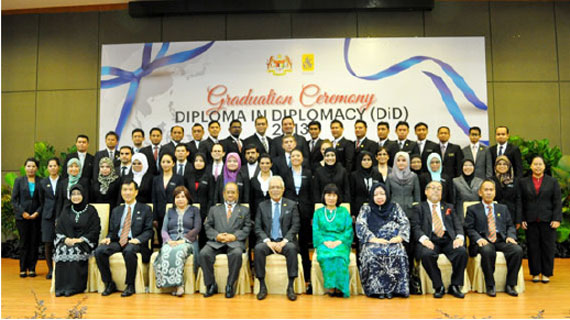 The Institute of Diplomacy and Foreign Relations (IDFR) hosted the Diploma in Diplomacy (DiD) 2013 Graduation Ceremony as well as a closing dinner for Regional and International Affairs Module (RIAM) participants on 20 November 2013. The Deputy Minister of Foreign Affairs, Malaysia, YB Dato' Hamzah Zainudin, Ambassadors and High Commissioners, officers and staff of IDFR and family members attended the event.
The programme commenced with the welcoming remarks by the Director General of IDFR, Dato' Hussin Nayan. He congratulated the DiD participants upon their successful completion of the six-month course that aims to develop an all-rounded and versatile diplomats, as well as to give them "an in-depth exposure on the various aspects of diplomacy and international relations." Dato' Hussin Nayan then added that with the knowledge and insights they have gained, these young diplomats "have the necessary skills and confidence to embark on an exciting and demanding career".
YB Dato' Hamzah Zainudin in his speech, urged the DiD participants "to be well read, be inquisitive and constantly challenge [themselves] to scale greater heights" in order to excel and ensure their "success in promoting and defending Malaysia's national interests". He also stated that the ministry recognises the need to invest in human capital development and the "conduct of the DiD programme for our young diplomats is but just one clear evidence of the ministry's effort in enhancing human capital development."
Ms. Nur Azura Abd. Karim, Class President of DiD 2/2013 delivered a touching and heartwarming speech. On behalf of the DiD participants, she thanked and acknowledged the training and language divisions, saying that the "DiD Secretariat and Language teachers have worked day in and day out to ensure participants are groomed to become holistic officers." Furthermore, she stated that as diplomats in the 21st century, "we are at the forefront of this change." And "as the 'sun' has set on previous approaches to conducting diplomacy and foreign relations, we shouldaspire to add value upon our return to our respective Ministries and Agencies. We should aspire to be the new 'sunrise' of tomorrow today."
Cultural performances by the Graduating Class of 2013 and RIAM participants concluded the programme.
After the certificate presentation, special awards were also given – Foreign Minister's Award for Best Student, Secretary General's Award for Best Leadership, Director General's Award for Best Speech Writer and Best Overall Performance of the UNSC Simulation to eight RIAM participants.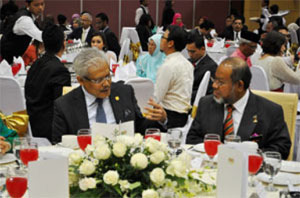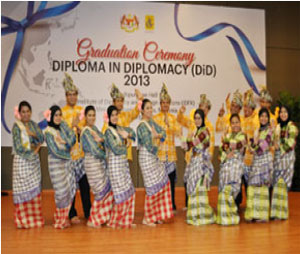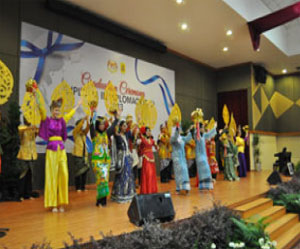 Reported by: Syahrul Nizzam Nordin
Academic Studies, Research, and Publication Division