The Second National Convention on Islamic Training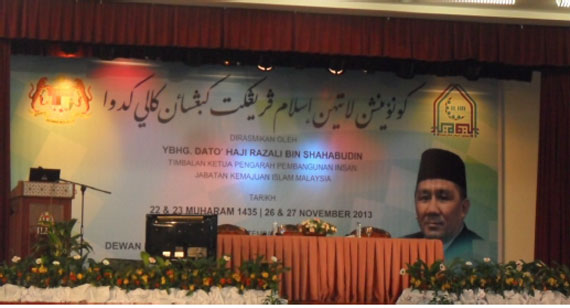 The Islamic Training Institute of Malaysia (ILIM) successfully organised the Second National Convention on Islamic Training from 26 to 27 November 2013 at Dewan Datuk Mohd Shahir, ILIM. The convention, which was a follow-up to the first one held from 21-22 November 2012, was a gathering of trainers and managers from training institutes all over Malaysia. The convention, jointly organised by the Department of Islamic Development
Malaysia (JAKIM) and ILIM, was aimed at strengthening the strategic agreement between training institutes in Malaysia to developa Rabbani generation inpublic service. IDFR was represented by Puan Kamariah Jaafar, Deputy Director of the Library and Puan Zaiza Haji Ali,
Deputy Director of ICT.
Tuan Hj. Razali Shahabudin, JAKIM's Deputy General Director (Human Development), gave the keynote address titled, Latihan Islam Asas melahirkan Generasi Rabbani Dalam Perkhidmatan Awam di Malaysia and later officiated the event. He also launched a book titled, Latihan Islam Di
Malaysia Suatu Pengenalan, published by ILIM.
Eight papers were presented during the two days, namely:
Personaliti Rabbani: Menjana Warga Kerja Cemerlang by Prof. Madya Dr. Hasnan Kasan (UKM);
Model Latihan Membangun Personaliti Rabbani di Pusat Latihan Islam by Ustaz Jaafar Muhammad (YaPIEM);
Pendidikan Dewasa Dalam Islam: Cabaran Pelaksanaannya di dalam Latihan Islam by Encik Abdul Jalil Saad (Protege Management Services);
Inovasi Kreatif Dalam Latihan Islam by Encik Mahadi Mohamad (ILIM);
Badan Akreditadi Latihan Islam Pertma di Dunis: Suatu Harapan by Dr. Muhammad Yamin Ismail (ILIM);
Standard Murabbi: Kelayakan dan Latihan Yang Mesti Dipatuhi by Encik Muhammad Zamri Mohamed Shapik (ILIM);
Sistem Kawalan Standard Latihan Islam (SLIM): Ke arah Kualiti Latihan Bertaraf Antarabangsa by Dr. Nordin Ahmad; dan
Keberkesanan Kaedah-Kaedah Penilaian: Asas Mengankasakan Latihan Islam di Malaysia by Prof. Madya Dr. Nik Mohd Rahimi Nik Yusoff (UKM).
At the end of the convention, the participants agreed on a draft resolution which was presented earlier by Dr. Muhammad Yamin Ismail. The draft resolution emphasized five (5) main areas, namely:
To develop a Rabbani Personality – to train coaches among civil servants who combine knowledge, skill and the spiritual aspects.
To establish an Islamic Training Accreditation Body – its function is to evaluate and recognise a training institute as 'shariah compliant'.
To establish an Islamic Training Standard – using an islamic training model to tproduce future generations with high integrity and competence through the combined approach of sunnah, science and art.
To monitor the Islamic Training Standard – a monitoring system for the Islamic training standard will be developed as a benchmark to ensure numbers 1-3 can be achieved.
General - This resolution will be proposed to the head of departments conference under the auspices of One Malaysia Training Center (1MTC).
The convention ended with a closing ceremony graced by Puan Hajjah Pauzaiyah Haron, the Director General of ILIM.
Reported by: Zaiza Haji Ali
ICT Section, Corporate and Management Services Division